D'Nealian Handwriting: Manuscript and Cursive Handwriting for Grades K-5
D'Nealian® Handwriting is the original continuous stroke, manuscript-cursive handwriting program! Newly reimagined for today's elementary classrooms, this supplemental handwriting curriculum now provides an integrated print and digital experience:
Complete audio, visual, tactile, and kinesthetic approach
Streamlined instructional routine and robust, multimodal practice
Prewriting skills, manuscript handwriting, and cursive handwriting
Continuous stroke method supports unique learning needs like dyslexia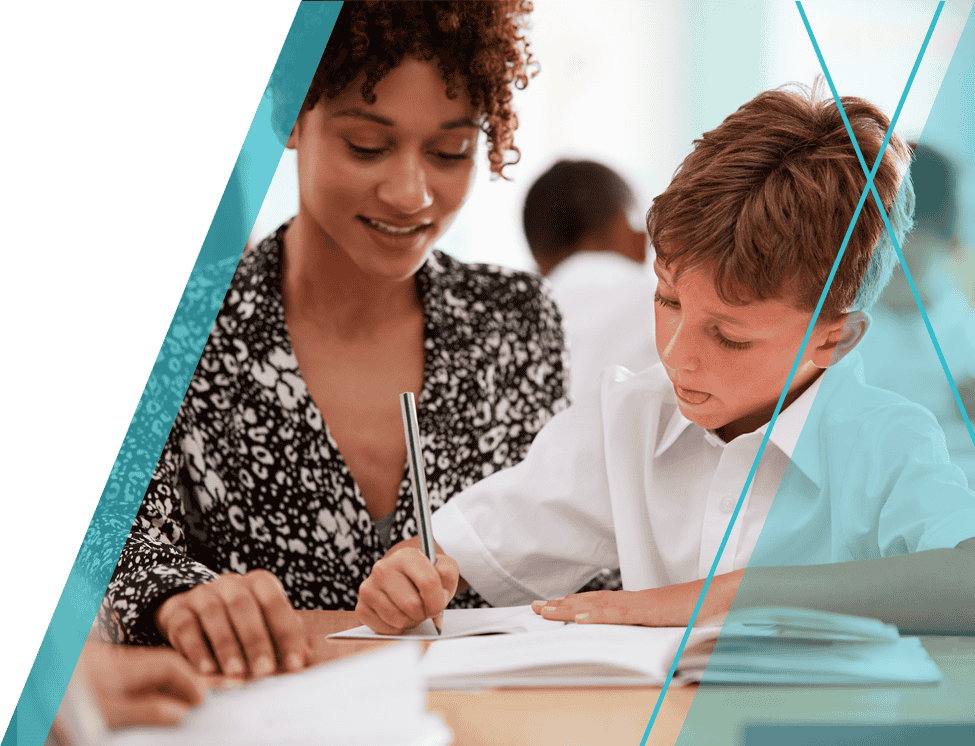 Why Choose D'Nealian Handwriting as Your Supplemental Handwriting Curriculum?
Discover the D'Nealian advantage! D'Nealian Handwriting makes it easy to teach manuscript and cursive handwriting in the elementary grades.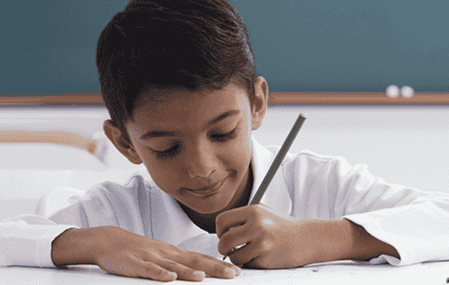 Multimodal Learning
D'Nealian Handwriting has been reimagined to provide a complete audio, visual, tactile, and kinesthetic approach to manuscript and cursive handwriting.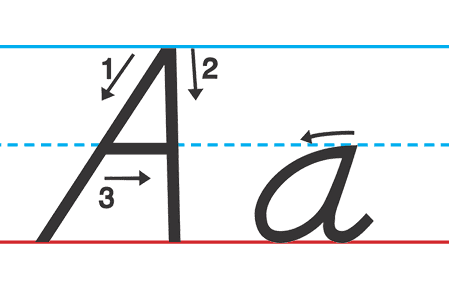 Continuous Stroke
The continuous stroke method supports early literacy and fine motor skills development with a focus on proper letter slant, size, and spacing.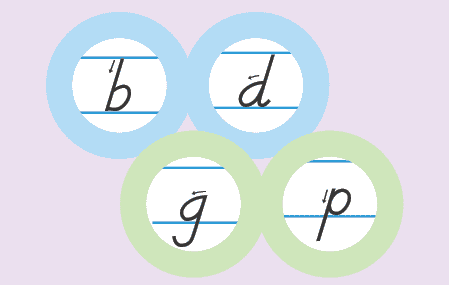 Reduce Reversals
Benefit: Because there are few pencil lifts, the D'Nealian continuous stroke method also cuts down on common reversals such as b and d or p and g.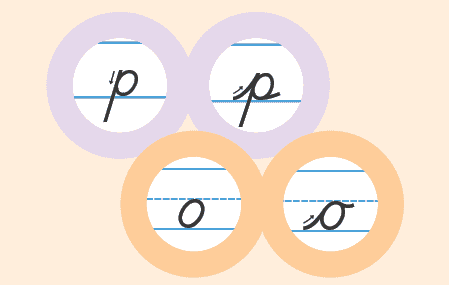 From Manuscript to Cursive
Since most lowercase letters are the same as their cursive version, it's easier for students to make the transition from manuscript to cursive.
Easy, Effective Manuscript Handwriting and Cursive Handwriting Program
Streamlined Instructional Routine

Practice for Every Learning Modality

Digital Resources for Teaching & Learning

Support Unique Learning Needs
Streamlined Instructional Routine
A streamlined approach — Teach, Model and Guide Practice, Practice, and Evaluate — teaches handwriting in a way that is easy to implement in any classroom.

Multiple Learning Modalities

In each lesson, skills are modeled through a variety of learning modalities, including audio, visual, tactile, and kinesthetic.

References for Stroke Modeling Animation Videos and printable practice pages, strategies for supporting English language learners, and more are all provided right at point of use.

Instructional Support for Spanish

Explicit teaching support is provided for each tracing or writing skill — and is available in both English and Spanish!

At the end of each lesson, the Activity Bank provides support for all learning modalities. Additional activities provide enrichment, letter practice, and creative projects.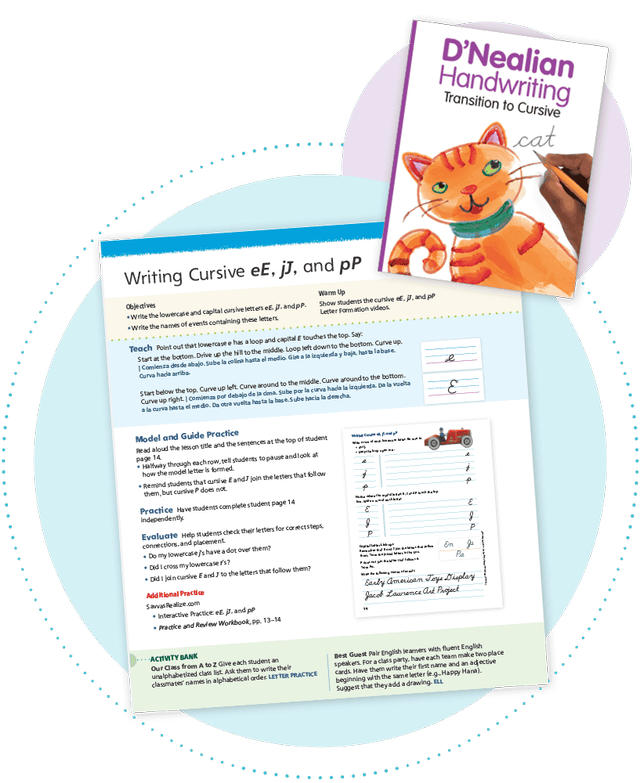 How D'Nealian Works
Students begin by learning the skills they need to prepare them to write, including proper writing sitting position, understanding left-to-right progression, and tracing and drawing lines.

Manuscript Letters & Numbers

Students learn lowercase and capital letters by tracing the letters, then writing them. Students also learn to write numbers and number words.

D'Nealian Handwriting teaches children proper letter size, slant, and spacing.

The continuous stroke method facilitates a smooth transition to writing lowercase cursive letters. Students learn capital cursive letters by tracing and then writing them.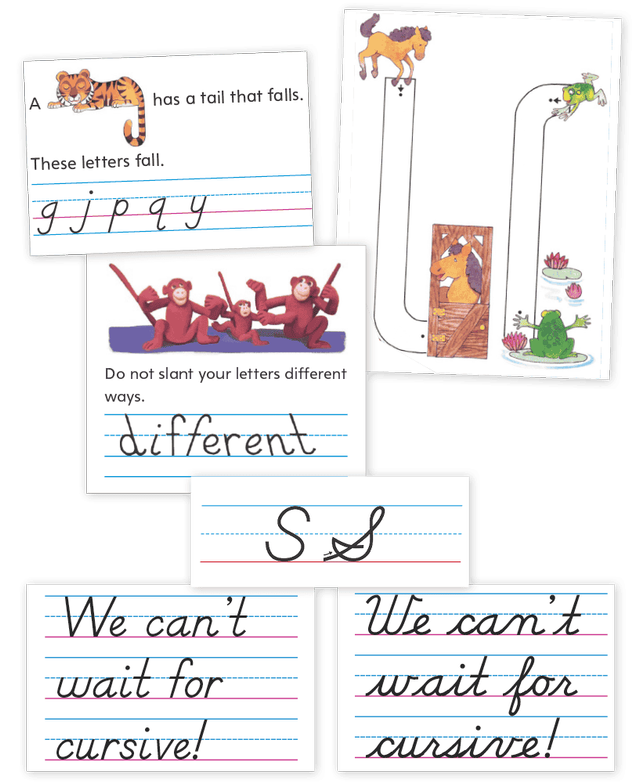 Practice for Every Learning Modality
Practice, Review, & Evaluate

The Student Edition provides pages for practice, review, and evaluation, giving students ample opportunities to practice forming letters and words, reinforce their learning, and self-evaluate their work. Additional practice pages can be downloaded and printed as needed.

Tactile & Kinesthetic Practice

Support early elementary students with hands-on tactile and kinesthetic learning using Alpha Touch Cards, a classroom set of 25 Write-On/Wipe-Off Cards, and Tracing Letter and Number Cards.

As students learn cursive capital letters, they practice real-world writing tasks such as writing addresses, letters, recipes, thank-you notes, and more.

Activities for All Learners

Every lesson includes an Activity Bank that offers opportunities to differentiate and extend instruction. Additional practice activities for a variety of learning modalities (e.g., visual, auditory, kinesthetic) are included.

Practice with a Personal Touch

Add a personal touch to handwriting practice with the Practice Generator! Teachers can use pre-built templates to make custom handwriting practice pages featuring students' names, communities, favorite hobbies, sports, and more.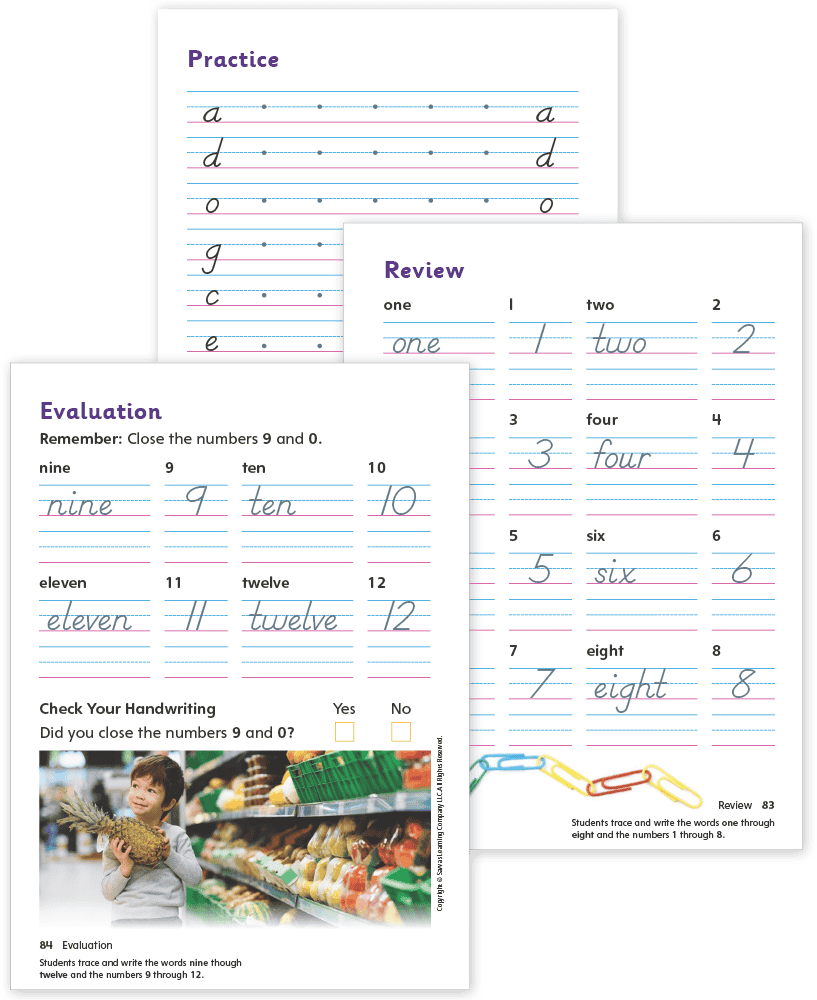 Digital Resources for Teaching & Learning
Stroke Modeling Animation Videos

Provide audio-visual support with animation videos that model proper size, slant, and spacing for numbers and all manuscript and cursive lowercase and uppercase letters.

Interactive Student Practice

Practice in 3 easy steps! Students watch a stroke modeling video and complete a tracing activity. They finish their interactive practice with free form letter formation.

Print-on-Demand Resources

Teachers can easily print pages from a printable PDF of the Student Edition, or give students even more practice with pages from the Practice and Review Workbook.

The new Savvas Practice Generator lets teachers quickly create customized practice worksheets for individual learner needs from pre-built templates. Customized practice increases student ownership of learning!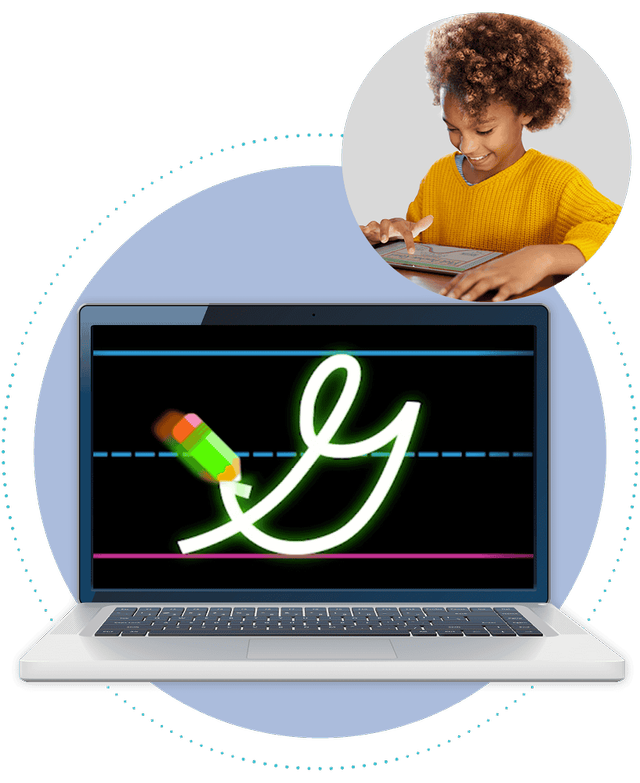 Support Unique Learning Needs
Dyslexia & Other Learning Needs

The continuous stroke method in D'Nealian Handwriting supports students with unique learning needs such as dyslexia, dysgraphia, or fine motor delays.

Using a continuous stroke helps students better learn and retain common spelling patterns.

The D'Nealian method also lets students refine and correct their handwriting as they go, making both manuscript and cursive easier to learn.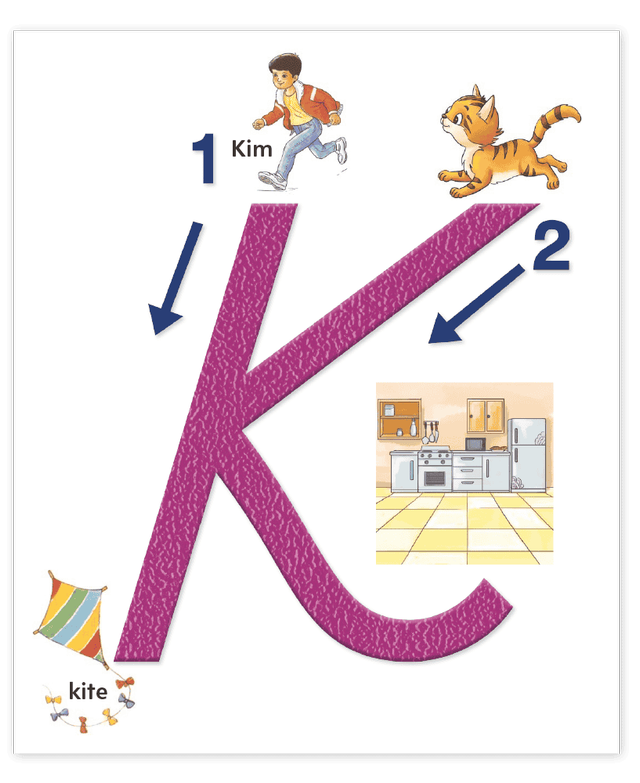 Take a Closer Look at D'Nealian Handwriting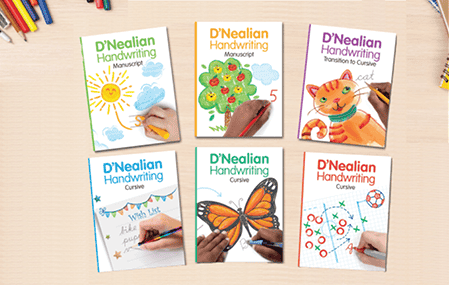 Program Overview
Get a quick overview of the latest edition of D'Nealian Handwriting.
Complete Digital Experience for Manuscript and Cursive Handwriting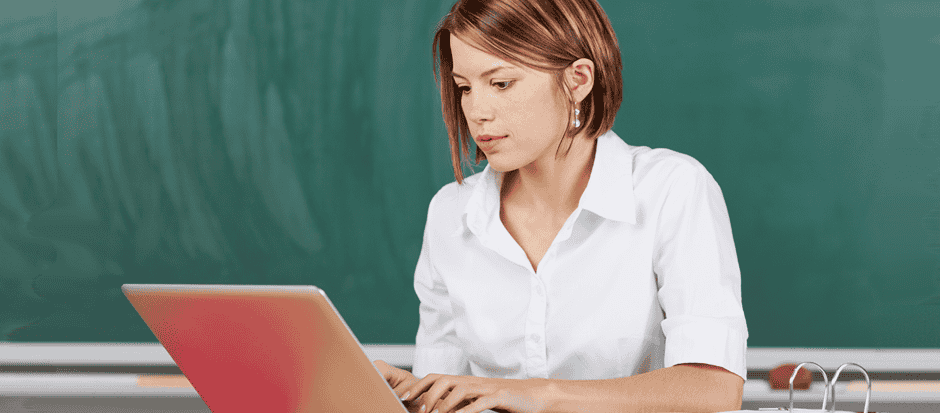 The digital components of D'Nealian Handwriting are all hosted on the award-winning Savvas Realize® digital platform. Realize integrates with a wide variety of digital tools and systems, such as Google Classroom, Canvas, Schoology, OneDrive, and many more!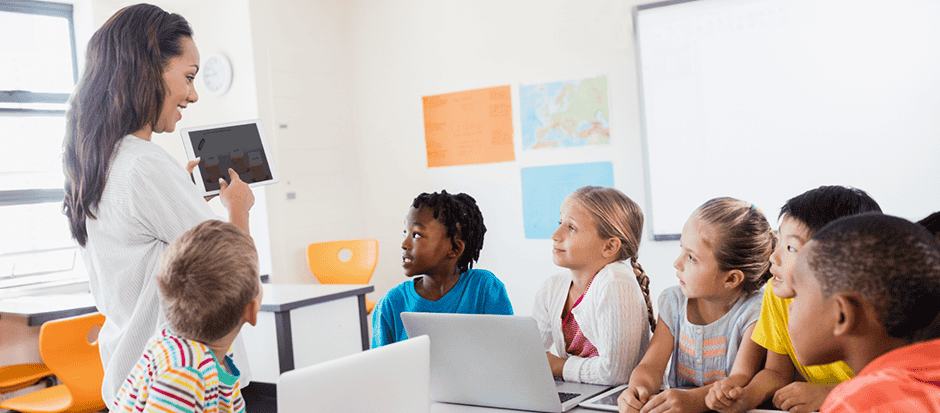 With Savvas Realize, you can create custom Playlists. Use ready-made content or upload your own files for maximum customization, then assign to specific students based on their instructional needs. You can also share Playlists with other educators in your school or district!
Free! Handwriting Name Practice Worksheets
Add a personal touch to your students' manuscript handwriting practice with these free handwriting name practice worksheets! Get ready-to-print handwriting worksheets featuring 60 of today's most popular children's names. Plus, sign up for free access to
D'Nealian Handwriting
, which makes it easy for educators to create custom handwriting name practice worksheets for every student in the classroom.
Get Your Worksheets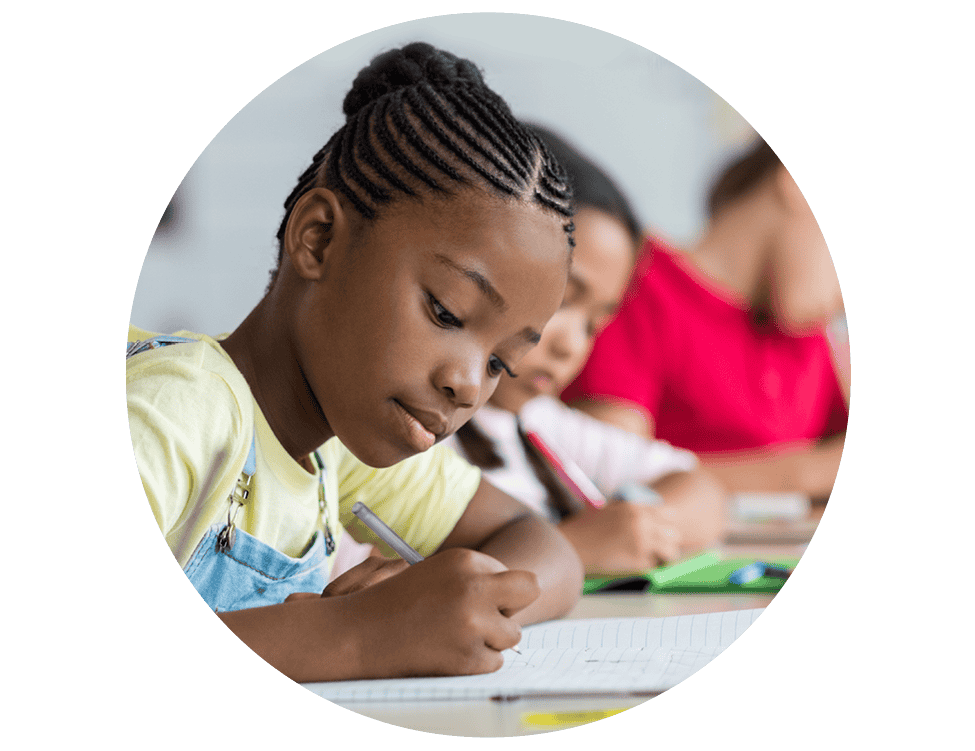 School Stories
In these inspirational stories, you'll learn about what schools and districts from across the country are doing to help students succeed and shape the future of education.
Get Inspired