Essentials of Human Anatomy & Physiology, 13th Edition © 2022
Essentials of Human Anatomy & Physiology, published by Pearson, combines an approachable writing style with clinical applications to create a memorable class that prepares students for college and their careers.
Updated content throughout keeps students and teachers current on research and terminology
New interactive eText with embedded imagery and videos
Wide variety of self-assessment questions to keep students engaged
This program is accompanied by Pearson's Mastering® platform with eText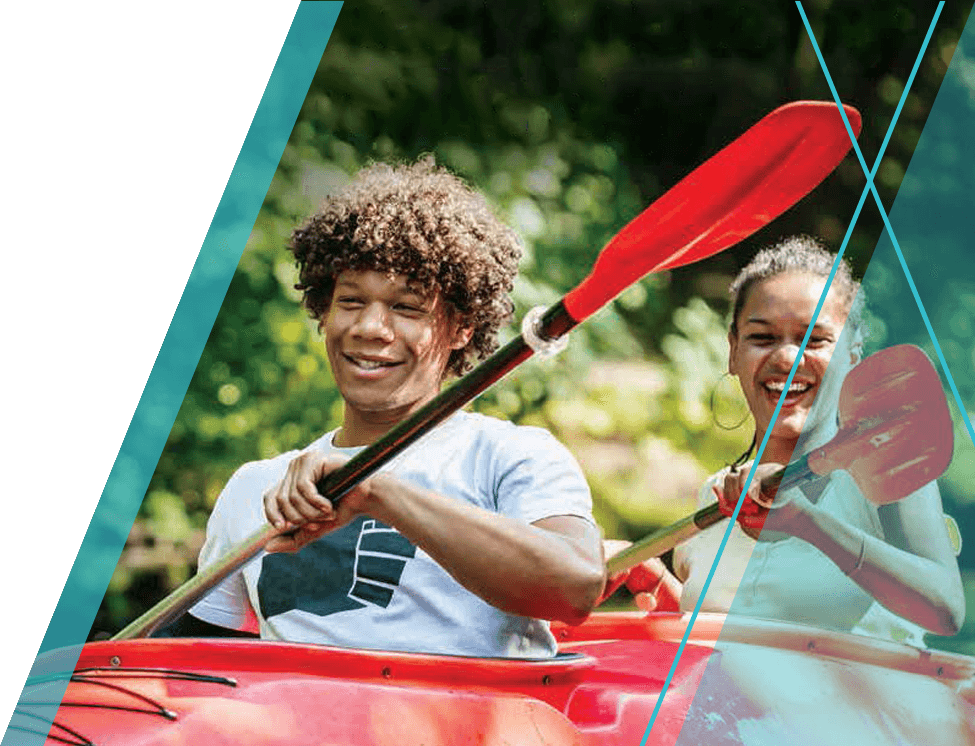 Anatomy & Physiology Program with Digital Integration
Guide students to a deep understanding of the interconnections of anatomy and physiology with a wide variety of resources.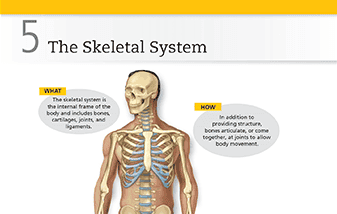 Start with the Basics!
Each chapter is written in a conversational style, with straightforward explanations, familiar analogies, and a variety of features to help you learn and remember.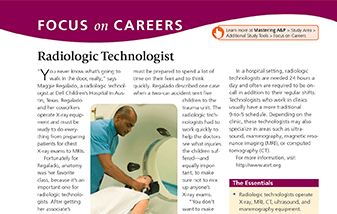 Career Prep
With essays from working professionals and relevant sections on the Mastering platform, students can see firsthand how they might apply the principles of anatomy and physiology in the future.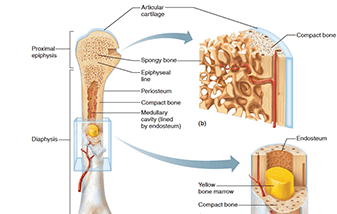 Visualize A&P
Figures help learners visualize intricate concepts—at just the right level of detail—that might be difficult to understand from the written words alone. Sometimes a picture really is worth a thousand words!
Blended Instruction
Teachers can take advantage of the technology they already have. The textbook and the online Mastering® platform from Pearson offer a full suite of resources to help teachers and students succeed.
Teaching Solutions for High School Anatomy & Physiology Curricula
New End-of-Chapter Review Sections

Interactive Learning Tools
New End-of-Chapter Review Sections
Includes Study Tips with information that might show up on a quiz or test

Highlighting Important Information

Figures, tables, or graphs highlight important information from the chapter

Reaching Today's Students

Engaging content and structure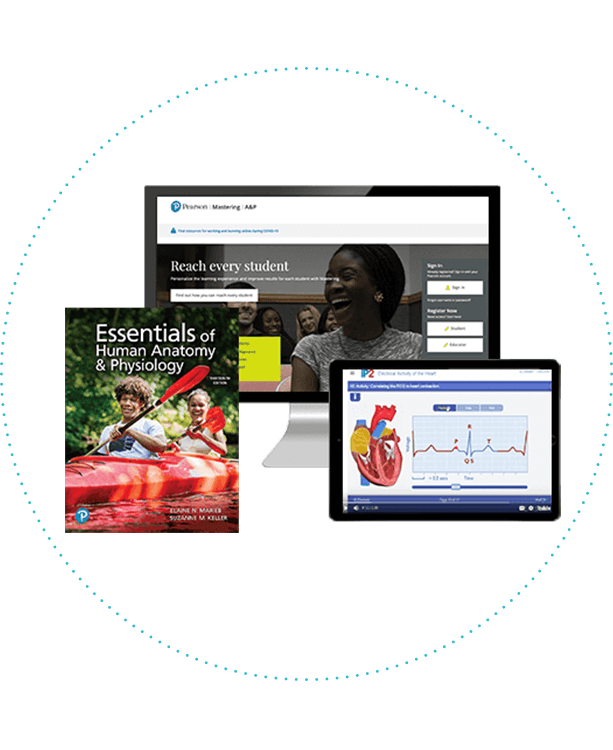 System in Sync Figures
Accompany each body system covered in the course

Summaries and Illustrations

Summaries and illustrations for every system

Explanations for how the systems relate to one another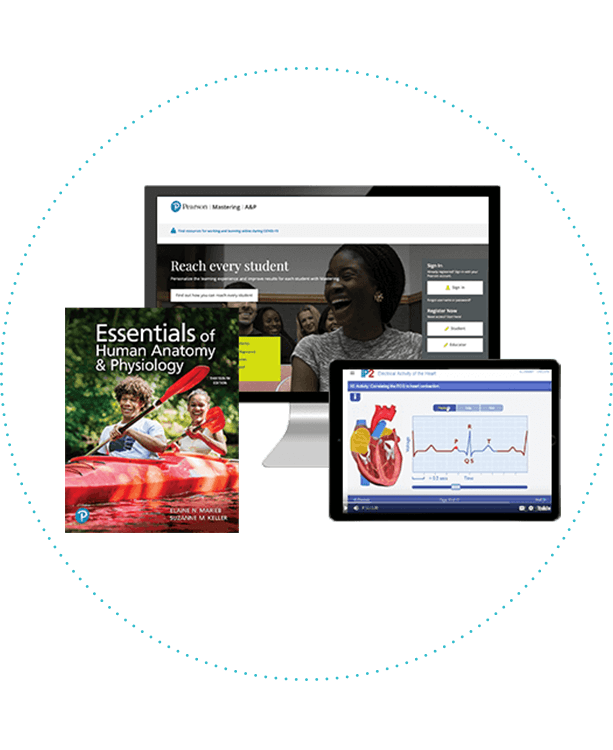 Closer Look Essays
Relevant and Timely Information

Explore relevant and timely discoveries related to anatomy and physiology

Focus on medical research and clinical procedures

Critical Thinking and Clinical Application

Follows the Critical Thinking and Clinical Application questions in the textbook so students go in prepared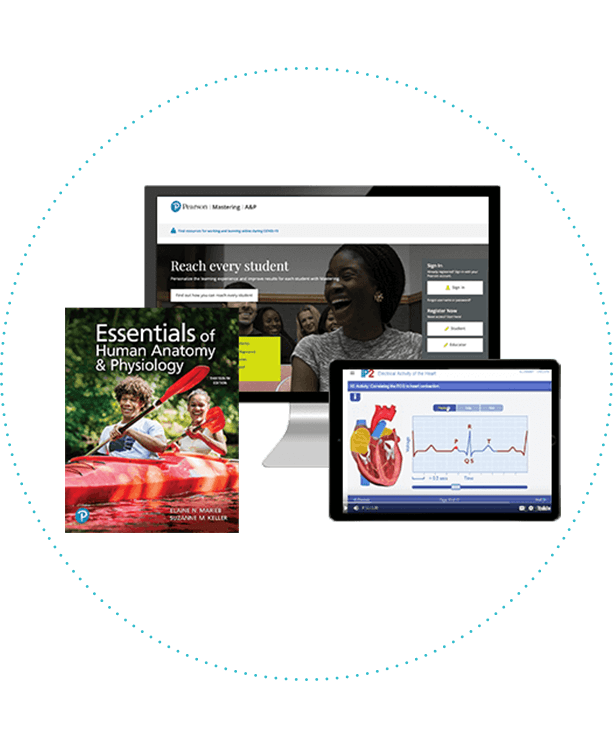 Interactive Learning Tools
Book-specific Coaching Activities use art from the book to key physiological processes

Online eText with videos and animations embedded for in-class and at-home engagement

A&P Flix™ animations with step-by-step explanations and 3-D anatomical structures walk through difficult-to-teach processes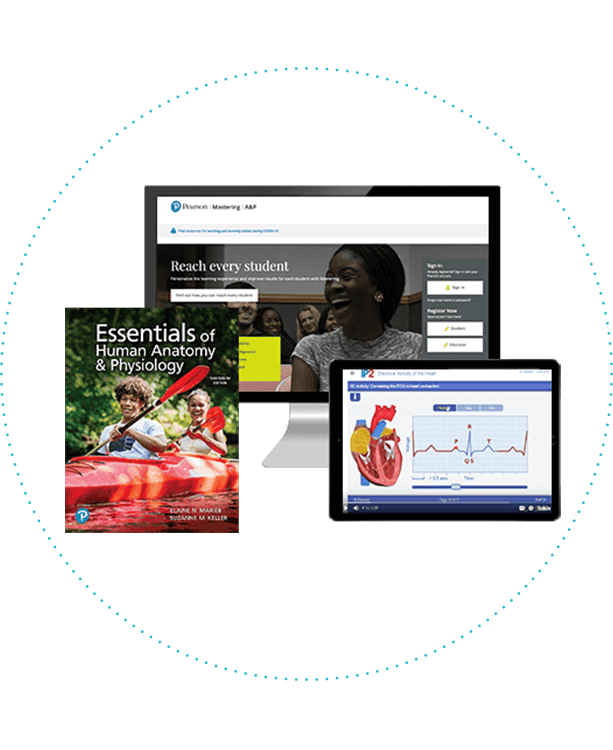 Take a Deeper Look at Essentials of Anatomy and Physiology 13e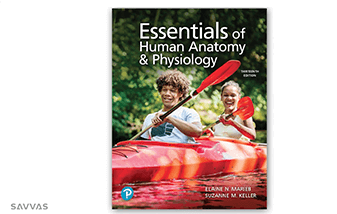 Overview
Get to know Essentials of Anatomy and Physiology with Mastering® A&P with Pearson eText.
Online Platform for your Anatomy and Physiology Instruction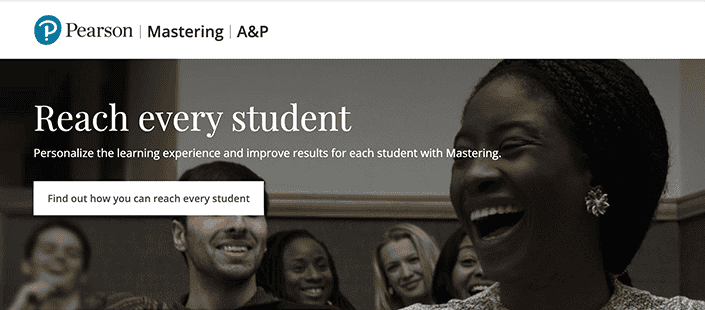 Pearson Mastering® A&P provides easy-to-access online eTexts, assessments, assignments, and other resources to help teachers and students succeed.
School Stories
In these inspirational stories, you'll learn about what schools and districts from across the country are doing to help students succeed and shape the future of education.
Get Inspired
More About Human Anatomy & Physiology
1. The Human Body: An Orientation
2. Basic Chemistry
3. Cells and Tissues
4. Skin and Body Membranes
5. The Skeletal System
6. The Muscular System
7. The Nervous System
8. Special Senses
9. The Endocrine System
10. Blood
11. The Cardiovascular System
12. The Lymphatic System and Body Defenses
13. The Respiratory System
14. The Digestive System and Body Metabolism
15. The Urinary System
16. The Reproductive System


Elaine N. Marieb Author Bio

After receiving her Ph.D. in zoology from the University of Massachusetts at Amherst, Elaine N. Marieb joined the faculty of the Biological Science Division of Holyoke Community College. While teaching at Holyoke , where many of her students were pursuing nursing degrees, she wanted to better understand the relationship between the scientific study of the human body and the clinical aspects of nursing practice. To that end, while continuing to teach full time, Dr. Marieb pursued her nursing education, which culminated in a Master of Science degree with a clinical specialization in gerontology from the University of Massachusetts. It is this experience that has informed the development of the unique perspective and accessibility for which her textbooks and lab manuals are so well known.

Dr. Marieb passed away in 2018 after a lifetime of supporting numerous institutions and programs. Perhaps her favorite cause was helping students, especially nontraditional students, pursue their goals in science. She gave generously to provide opportunities for them to further their education by, to name just one example, funding the E. N. Marieb Science Research Awards at Mount Holyoke College. She also believed strongly in research: she underwrote the renovation of the biology labs in Clapp Laboratory at Mount Holyoke College and provided funding for reconstruction and instrumentation of a cutting-edge cytology research laboratory at the University of Massachusetts at Amherst. Her legacy of contributing to science education lives on through the Elaine Nicpon Marieb Foundation, which provides support to multiple causes and organizations. In 2021, the Foundation provided a generous donation to the University of Massachusetts, Amherst, which is now home to the Elaine Marieb College of Nursing. Dr. Marieb has also provided philanthropic support to Florida Gulf Coast University, which is home to the Elaine Nicpon Marieb College of Health and Human Services.

Suzanne M. Keller Author Bio


Suzanne M. Keller began her teaching career while she was still in graduate school. Inspired by her lifelong passion for learning, Dr. Keller quickly adopted a teaching style focused on translating challenging concepts into easy-to-understand parts using analogies and stories from her own experiences. An Iowa native, Dr. Keller uses her expertise to teach microbiology and anatomy and physiology at Indian Hills Community College, where most of her students are studying nursing or other health science programs. Dr. Keller values education as a way for students to express both themselves and their values through the careers they pursue. She supports those endeavors both in and out of the classroom by financially supporting scholarships and service learning trips for students.

Dr. Keller also enjoys sponsoring children in need with gifts for the holidays. Dr. Keller is a member of the Human Anatomy and Physiology Society (HAPS) and the Iowa Academy of Science. Additionally, Dr. Keller has served on multiple advisory boards for various projects at Pearson and has authored assignments for Mastering A&P. When not teaching or writing, Dr. Keller practices energy healing and is a Usui Reiki Master Teacher. She enjoys reading, indoor rowing, gardening, travel, family gatherings, and relaxing at home under the watchful eyes of her two canine children.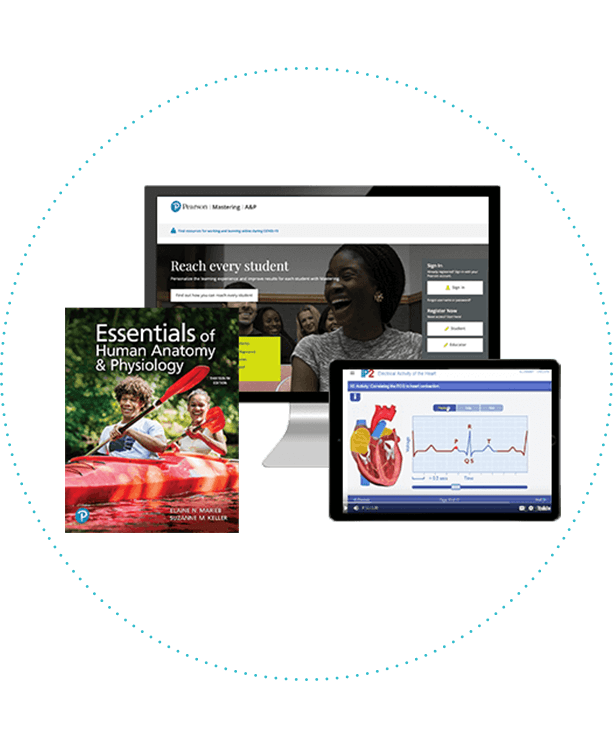 PEARSON, MYLAB, MYMATHLAB, MATHXL, MASTERING, STATCRUNCH, REVEL and the Pearson Logo are trademarks owned and/or registered by Pearson plc and/or its affiliates. All other third party marks associated with these products are the property of their respective owners. Copyright in the works referenced herein is owned by Pearson Education, Inc. Pearson Education has control over the editorial content in these instructional materials.
AP® is a registered trademark of the College Board, which was not involved in the production of, and does not endorse, these products.