Sociology: A Down-to-Earth Approach, 14th Edition © 2020
Author Jim Henslin presents a relatable, sincere, student-friendly narrative that centers around a traditional three-perspectives sociology framework.
This edition has been reviewed and edited specifically for use in high school courses.
This latest edition includes a correlation grid that shows content alignment to the American Sociological Association curriculum.
This program is accompanied by the Pearson MyLab® platform with eText.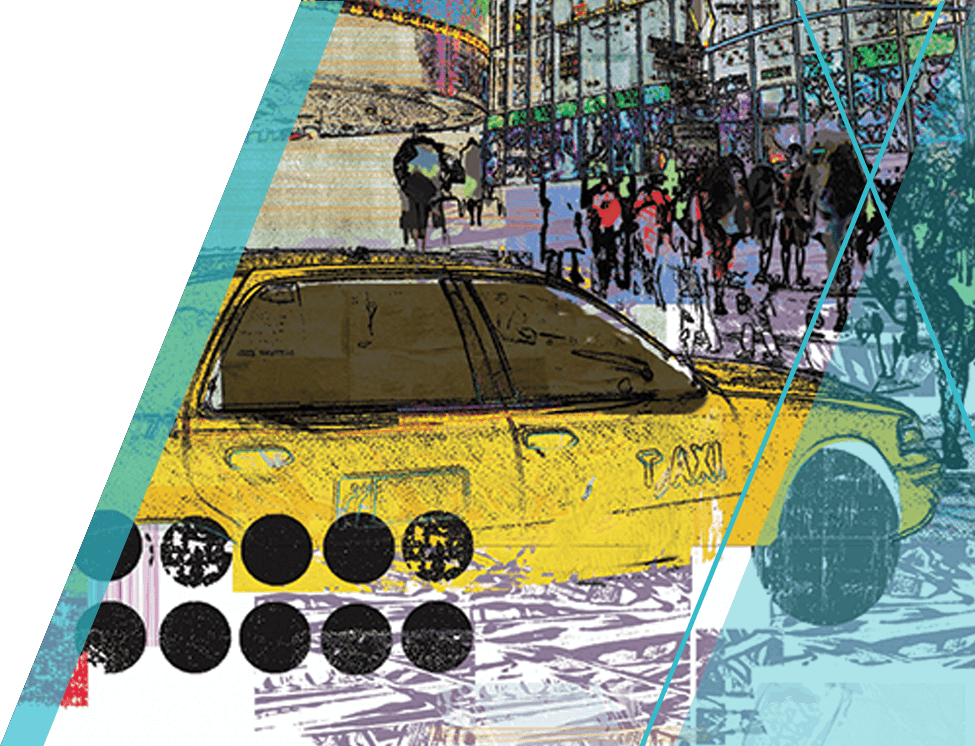 Sociology: A Down-to-Earth Approach, 14th Edition
This edition features engaging content to help students gain a better understanding of both society and themselves.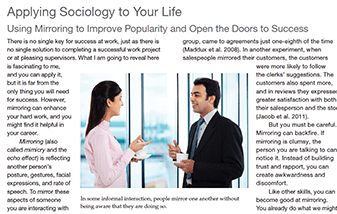 New edition features
The 14th Edition includes high-interest new content to engage students, such as the Pearson Originals docuseries, Applying Sociology to Your Life feature boxes, Hearing from Students videos, and Hearing from the Author audio clips.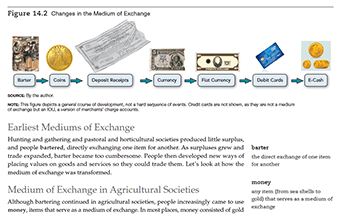 Contemporary sociology topics
Updated contemporary topics integrated into the lessons reflect our global society where national and global changes are all around us. Integrated coverage of globalization throughout the text enables students to explore the impact of global issues on our contemporary lives and on the lives of people around the world.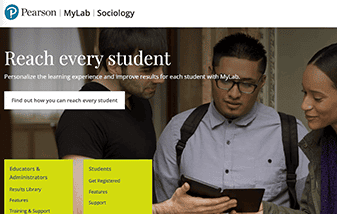 MyLab® Sociology with Pearson eText
MyLab® Sociology with Pearson eText is a dynamic web site that provides a wealth of resources geared to meet the diverse teaching and learning needs of today's teachers and students. The many accessible tools found in MyLab Sociology will help improve their learning and success in the course.
Sociology: A Down-to-Earth Approach, 14th Edition
A variety of high-interest new content

Hearing from Students videos, and Hearing from the Author audio clips.

Teacher Resources through MyLab® Sociology
A variety of high-interest new content
The Shifting Landscape boxes explore how technology affects our lives as it changes society.

Eight Through the Author's Lens

Eight Through the Author's Lens photos essays, taken by author Jim Henslin in Austria, Cambodia, and other locations, expand students' sociological imaginations, opening their minds to unique ways of social life and stimulating thought-provoking class discussion.

New! Applying Sociology to Your Life

New! Applying Sociology to Your Life boxes contextualize core concepts by providing students with real examples of how they can apply sociology to their own lives.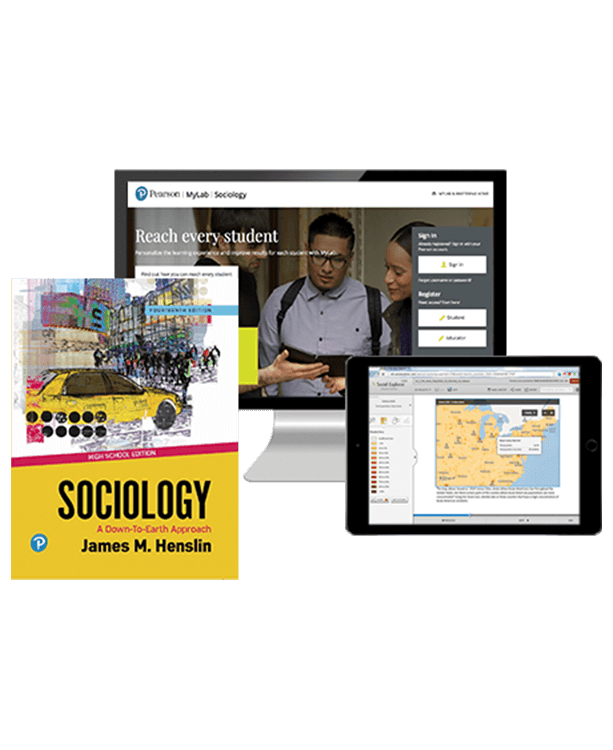 Hearing from Students videos, and Hearing from the Author audio clips.
Videos support the down-to-earth approach with news footage and stories that reflect real-life examples of sociology. Students can revisit major historical events including critical points in the Civil Rights movement and view videos through a sociological lens.c

Author audio clips are a new feature in which Jim further personalizes the content with chapter-opening commentary on sociological concepts, photo essays, individual photos of particular significance, tables, figures, and topics.
This feature gives students additional context for understanding more difficult topics, while the author's interweaving of observations and personal experiences reinforces how sociology is part of the student's everyday life.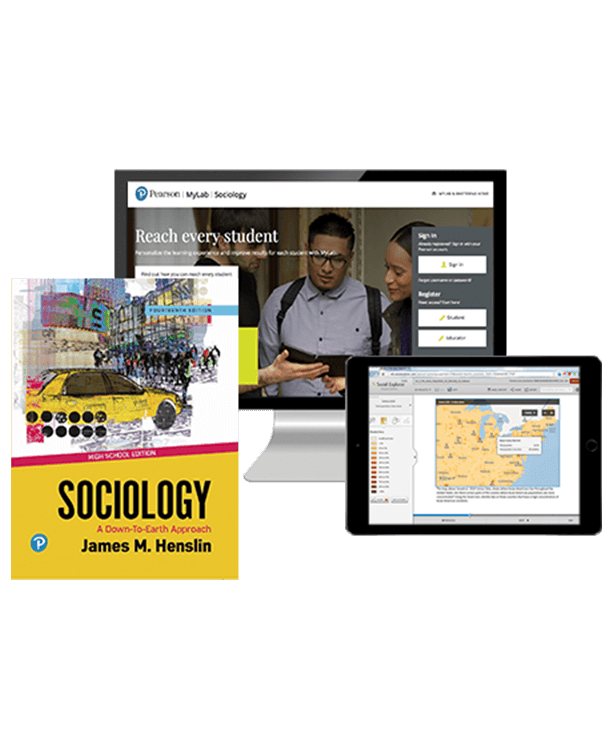 Teacher Resources through MyLab® Sociology
Pedagogical tools, including chapter-opening vignettes and Learning Objectives, have been designed to convey important lessons, enabling students to improve their understanding of the core narrative.

Annotated Teacher Edition

Annotated Teacher Edition provides complete coverage of student content, annotated with helpful suggested activities and references to assets in MyLab® Sociology.

New! Correlation grid showing content alignment to the American Sociological Association curriculum.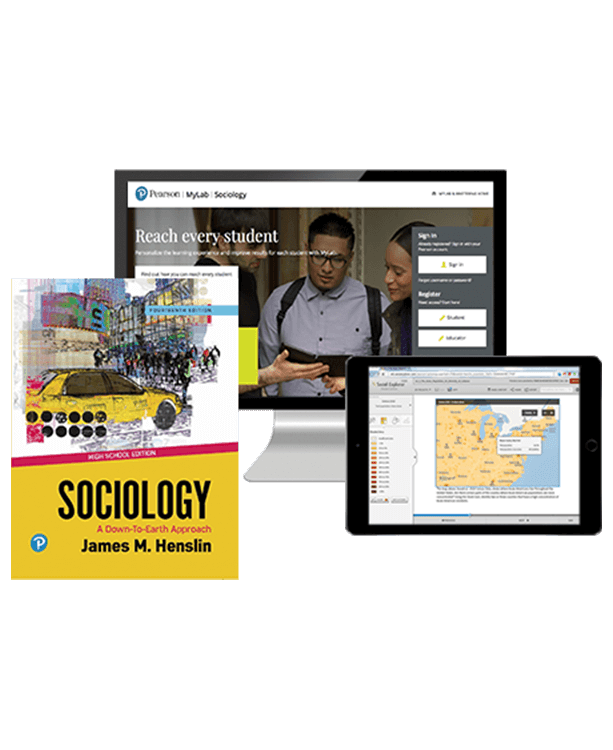 Take a deeper look into Sociology: A Down-to-Earth Approach 14th Edition's features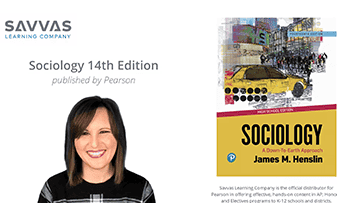 Program Overview
Get to know Sociology: A Down-to-Earth Approach with MyLab® with Pearson eText
Sociology: A Down-to-Earth Approach, 14th Edition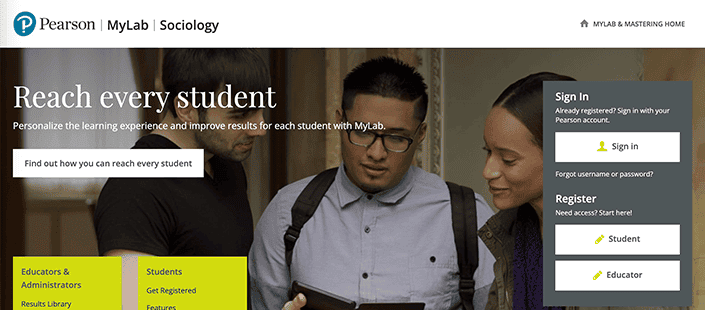 MyLab® Sociology from Pearson is a learning and assessment tool that enables teachers to assess student performance and adapt course content—without investing additional time or resources. Teachers decide the extent of integration—from independent self assessment for students to total course management.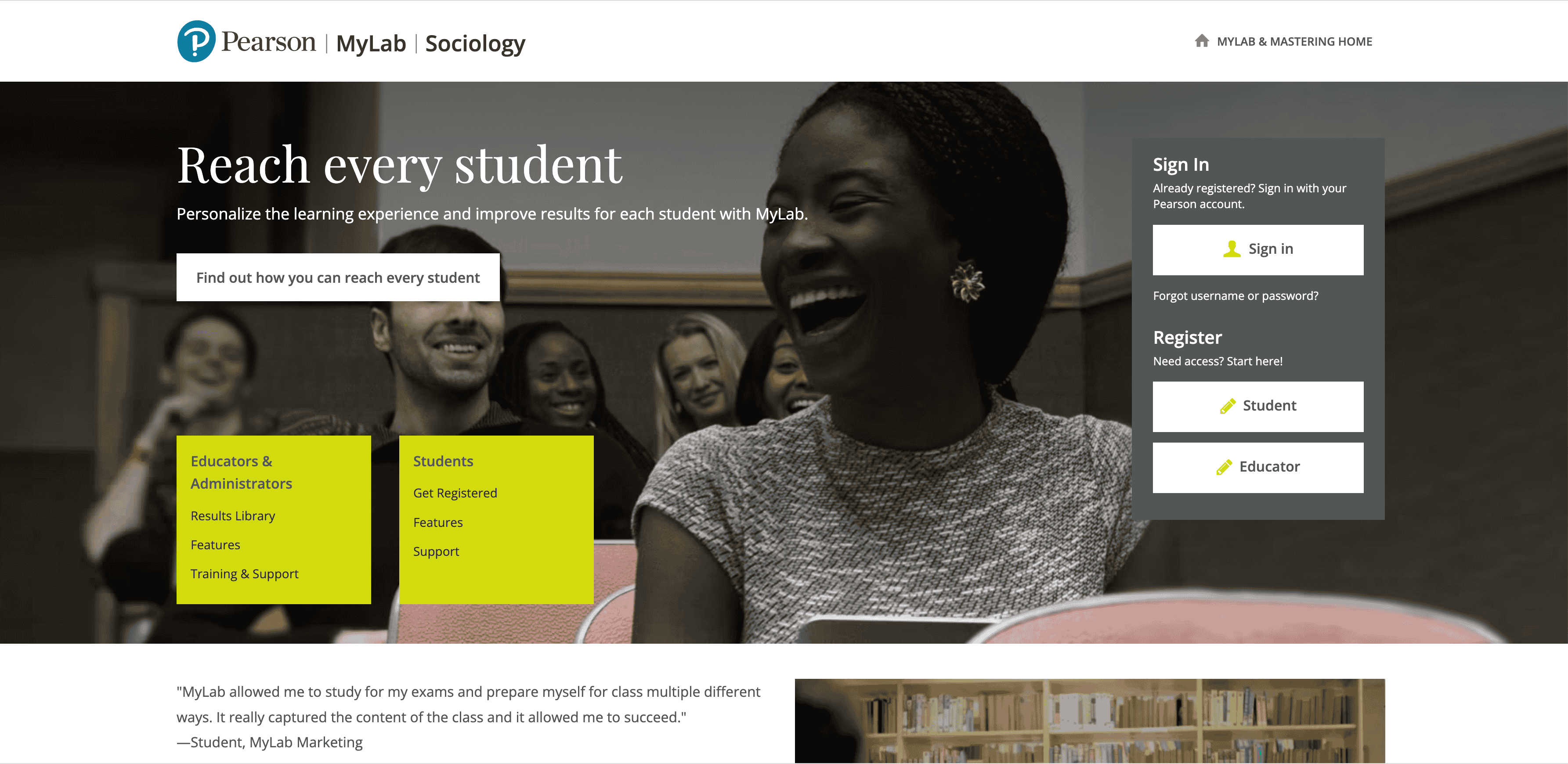 Students benefit from an easy-to-use site, with Pearson eText and complete audio book, where they can test themselves on key content, track their progress, and utilize individually tailored study plans.
The Pearson eText gives students access to the text whenever and wherever they can access the Internet. The eText can be viewed on PCs, Macs, and tablets, including iPad® and Android®.
The Pearson Originals docuseries highlights stories that exemplify and humanize the concepts covered in Sociology courses. These videos illustrate a variety of social issues and current events, bringing key topics to life for students.
Interactive Maps are based on the Social Maps Jim has created for Sociology: A Down-to-Earth Approach. They illustrate how social conditions vary among the states and by regions of the country. Students can click through these maps and compare their own states with the rest of the country.
School Stories
In these inspirational stories, you'll learn about what schools and districts from across the country are doing to help students succeed and shape the future of education.
Get Inspired
More About Sociology, A Down-to-Earth Approach
Jim Henslin was born in Minnesota, graduated from high school and junior college in California and from college in Indiana. Awarded scholarships, he earned his master's and doctorate degrees in sociology at Washington University in St. Louis, Missouri. After this, he won a postdoctoral fellowship from the National Institute of Mental Health and spent a year studying how people adjust to the suicide of a family member. His primary interests in sociology are the sociology of everyday life, deviance, and international relations. Among his many books are Down-to-Earth Sociology: Introductory Readings and Social Problems, now in its 12th edition. He has also published widely in sociology journals, including Social Problems and American Journal of Sociology.

While a graduate student, Jim taught at the University of Missouri at St. Louis. After completing his doctorate, he joined the faculty at Southern Illinois University, Edwardsville, where he is Professor Emeritus of Sociology. He says, "I've always found the introductory course enjoyable to teach. I love to see students' faces light up when they first glimpse the sociological perspective and begin to see how society has become an essential part of how they view the world."

Jim enjoys reading and fishing, and he also does a bit of kayaking and weight lifting. His two favorite activities are writing and traveling. He especially enjoys visiting and living in other cultures, for this brings him face to face with behaviors and ways of thinking that challenge his perspectives and "make sociological principles come alive." A special pleasure has been the preparation of Through the Author's Lens, the series of photo essays that appear in this text.

Jim moved to Latvia, an Eastern European country formerly dominated by the Soviet Union, where he had the experience of becoming an immigrant. There he observed firsthand how people struggle to adjust to capitalism. While there, he interviewed aged political prisoners who had survived the Soviet gulag. He then moved to Spain, where he was able to observe how people adjust to a declining economy and the immigration of people from contrasting cultures. (Of course, for this he didn't need to leave the United States.) To better round out his cultural experiences, Jim recently visited South Korea, Vietnam, and again India. He hopes to travel extensively in South America, where he expects to do more photo essays to reflect their fascinating cultures. Jim is grateful to be able to live in such exciting social, technological, and geopolitical times — and to have access to portable broadband Internet while he pursues his sociological imagination.

Brief Contents

The Sociological Perspective
Culture
Socialization
Social Structure and Social Interaction
How Sociologists Do Research
Societies to Social Networks
Bureaucracy and Formal Organizations
Deviance and Social Control
Global Stratification
Social Class in the United States
Sex and Gender
Race and Ethnicity
Aging and the Elderly
The Economy
Politics
Marriage and Family
Education
Religion
Medicine and Health
Population and Urbanization
Collective Behavior and Social Movements
Social Change and the Environment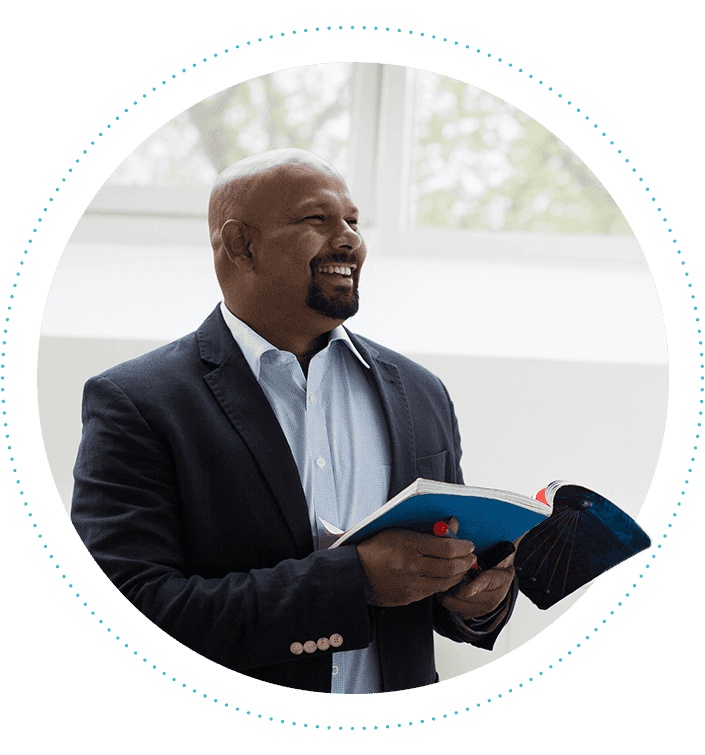 PEARSON, MYLAB, MYMATHLAB, MATHXL, MASTERING, STATCRUNCH, REVEL and the Pearson Logo are trademarks owned and/or registered by Pearson plc and/or its affiliates. All other third party marks associated with these products are the property of their respective owners. Copyright in the works referenced herein is owned by Pearson Education, Inc. Pearson Education has control over the editorial content in these instructional materials.
AP® is a registered trademark of the College Board, which was not involved in the production of, and does not endorse, these products.
Select an Option below:
More Options:
Select an Option below:
More Options: