Select an Option below:
More Options:
Ensuring Equity & Access for All Students in Your Science Classroom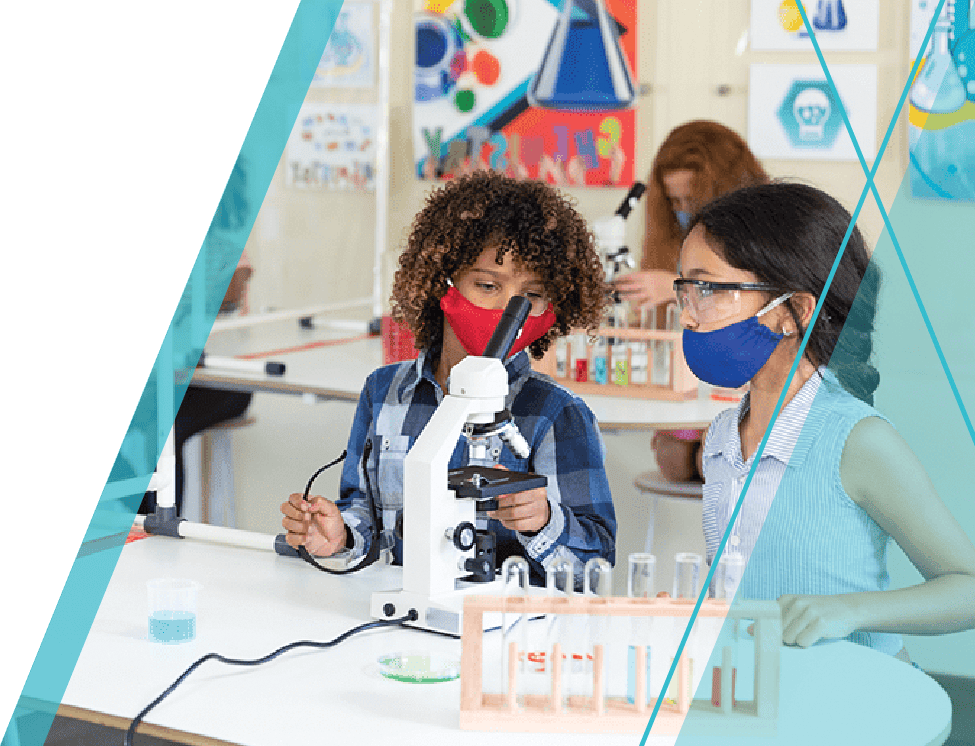 It goes without saying that we as teachers strive to provide our students with challenging, rich, and engaging experiences in our science classrooms. We endeavor to provide a safe environment where students can develop both knowledge and conceptual understanding while fully participating in science and engineering practices. We want to ensure that our students are able to grow in a comfortable classroom climate where they can become confident, science-literate citizens and inspire them to consider careers in the science fields.

Here are some strategies to support and celebrate all students in our classrooms.
Addressing Diverse Students:
Provide access to a curriculum or to a wealth of resources that promote hands-on learning experiences for all students, especially to those vulnerable to academic inequalities.


Search for leveled reading opportunities, audio support, visual literacy resources, and/or videos to reach different learning modalities.


Be sure there is a balance of cultural representation through both images used during the lesson and through exposure to local to global phenomena.


Open the door for students to see themselves as future scientists and engineers offering hands-on experiences and making career connections.
English Learners:
Use targeted strategies for language acquisition by finding content aligned to ELD supports that is tailored to your students' needs.


Utilize scaffolded questions to determine and support the level of understanding of English Learners.


Include audio narration for the student text to allow students to listen to the reading of their text. If your district-provided program does not have audio provided for the student text, try using apps or other digital resources to supplement this idea.


Although our English Learners are not necessarily academically below level, utilizing a below level reader will help eliminate complex sentences and provide a more visual literacy approach to understanding difficult science concepts.


Research shows that English Learners who participate in inquiry-based learning learn English more quickly than those who don't. Giving students materials to build a prototype allows a language learner to build without needing to express all of their design ideas either orally or in writing.
Gender Equity:
Find ways to expose young girls, as the most underrepresented gender in STEM, to women in successful STEM Careers. This will make finding a career in STEM achievable.


Cultivate positive science and engineering identities in girls and young women by encouraging female students to participate in and lead inquiry activities and classroom discussions. Use this opportunity to nurture a balance and acceptance for both boys and girls as they are exposed to a variety of role models in the STEM world.


Biographies, out-of-school activities, and workshops can also strengthen STEM identities and inspire pathways to STEM Career
Differently-Abled Students:
Clearly state the goals for the lesson beforehand so students know where they are headed.


Present content in smaller chunks of information with questions to quickly assess and address students misconceptions immediately.


Provide constructive feedback and affirmation to support and encourage students several times during instruction.


Find a quick and convenient way to document student progress to adjust the content for your next lesson.


Use scaffolding question techniques to help drive students to a deeper understanding of difficult science topics.


Give your students Voice and Choice to show what they know!
Advanced Learners and Gifted Learners:
Recognize where your students' strengths and needs land. Appeal to their interests in designing lessons and assignments. Do they prefer a more artistic approach, writing, speaking, etc?


Group students together and let them talk! You would be surprised at how sophisticated their ideas can be after a few are bounced around in a science discussion.


Always provide optional approaches to making sense of science phenomena. Students will more often choose what works best for them.


Ask the more intriguing questions first! The harder the question the more the students will engage simply out of curiosity.
Economically Disadvantaged Youth:
Be aware of student challenges and avoid misapprehensions that stereotype the students or their families. It will make your students feel more comfortable in your classroom.


Offer support before or after school or during the lunch hour to give students expanded learning opportunities with books, computers, and lab supplies and materials that may not be available outside of the classroom.


If you are doing hands-on labs and ask parents to send supplies from home, it may not be feasible for all students to contribute. Be sensitive to unknown economic disparity. Try using a "wish tree" with tags of various price points to give parents and guardians a choice within their means
Building a comfortable classroom climate makes teaching and learning fun! Celebrate each student and their abilities. Addressing the needs of students with different abilities and interests directly translates into more engaged students, lessons with deeper meaning, and more long-lasting knowledge. When I put these tips into practice, I can often learn more from my students than they do from me.
Note: Fresh Ideas for Teaching blog contributors have been compensated for sharing personal teaching experiences on our blog. The views and opinions expressed in this blog are those of the authors and do not necessarily reflect the official policy or position of any other agency, organization, employer or company.