Environment: The Science Behind the Stories, 7th Edition, AP® Edition © 2021
Environment: The Science Behind the Stories, published by Pearsons, builds upon its student-friendly narrative style to provide an experience that seamlessly integrates the tools and resources they need to succeed in AP Environmental Science.
Engaging new features open students' eyes to environmental issues
New infographic-style illustrations help clarify concepts
Deeper integration of digital tools into the curriculum
This program is accompanied by Pearson's Mastering® platform with eText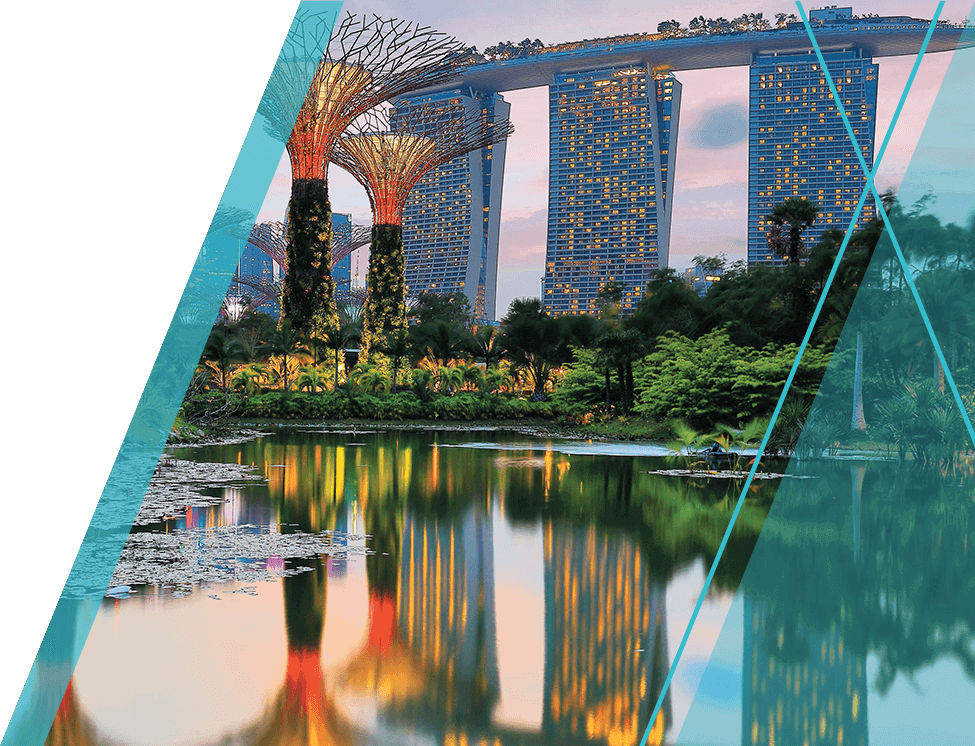 Environment: the Science Behind the Stories
Environment: The Science Behind the Stories turns solving today's environmental issues into an engaging AP curriculum.
Current Thinking
Environment's Case Studies focus on contemporary people and issues that keep students invested in figuring out solutions.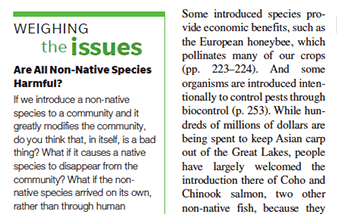 Critical Awareness
Weighing the Issues questions help students develop critical-thinking skills and grapple with ethical decisions then apply what they've learned throughout the chapters.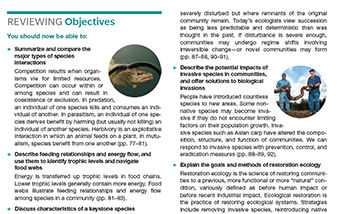 Diverse end-of-chapter features
Reviewing Objectives summarizes each chapter's main points and relates them to the chapter's learning objectives, enabling students to confirm that they have understood the most crucial ideas.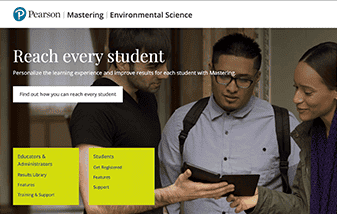 Structure and Flexibility
The Mastering® platform from Pearson allows instructors to build auto-graded assignments and watch real-time tracking of student progress, so the course can meet everybody's needs.
AP® Environmental Science Teaching Solutions
Real People, Real Places, and Real Data

Hands-on Data for Students

Develop Students' Scientific Literacy Skills

Instructor Support and Active Learning Resources
AP® Environmental Science Teaching Solutions
New Success Stories highlight forward-thinking solutions with one featured per chapter.

Addressing Environmental Problems

Success Stories present successful efforts to address environmental problems. New data-analysis Mastering Environmental Science activities complement each story.

Updated integrated Central Case Studies begin and are woven throughout the chapter. They create a contextual framework that draws students into learning about the real people, places, and data behind environmental issues.

Campus sustainability coverage appears throughout relevant chapters, showing how students are helping to forge sustainable solutions on campuses across North America.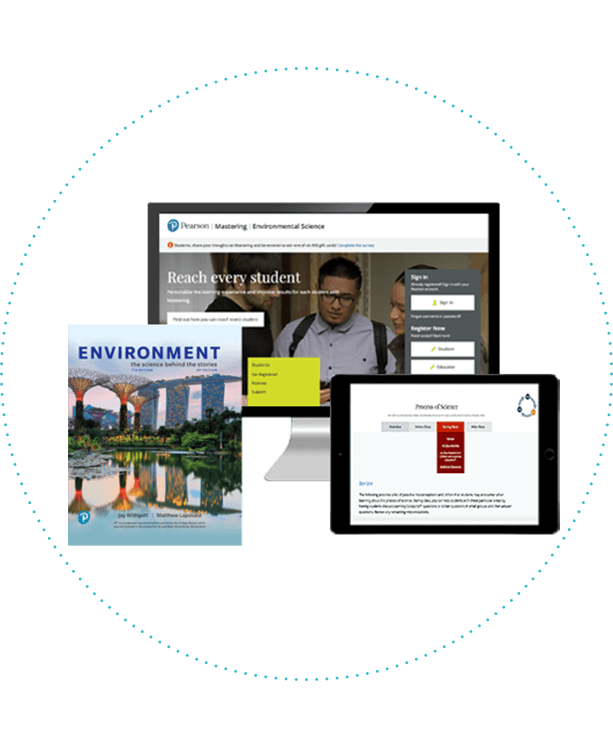 Hands-on Data for Students
New Datagraphics are infographic-style illustrations that allow students to see the data behind complex issues and understand how to tie it all together in the context of critical issues of our time.

Interactive Data Analysis Activities

New Interactive Data Analysis Activities give students a different way to interact with data and graphs to deepen understanding of environmental science. They are embedded in the Pearson eText for seamless access and assignable in Mastering Environmental Science.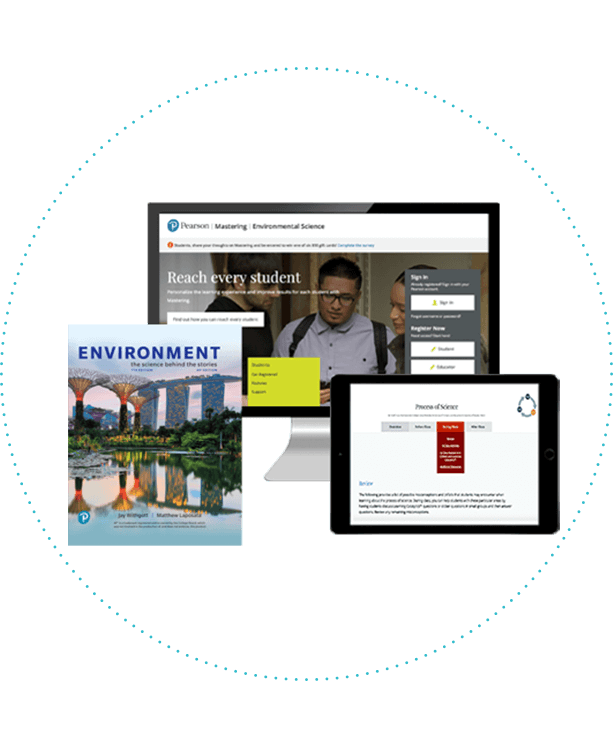 Develop Students' Scientific Literacy Skills
Ecological Footprint Activities

Calculating Ecological Footprint activities at the end of every chapter allow students to quantify the environmental impact of their own actions, then scale these up to the societal level.

FAQs examine common misconceptions students often hold about environmental issues.

Updated Science Behind the Story essays provide a current and fascinating selection of examples of real research that delves into environmental issues. Each essay highlights how scientists develop hypotheses, test predictions, and analyze and interpret data. These fascinating profiles of current research help students understand "how we know what we know" about environmental issues.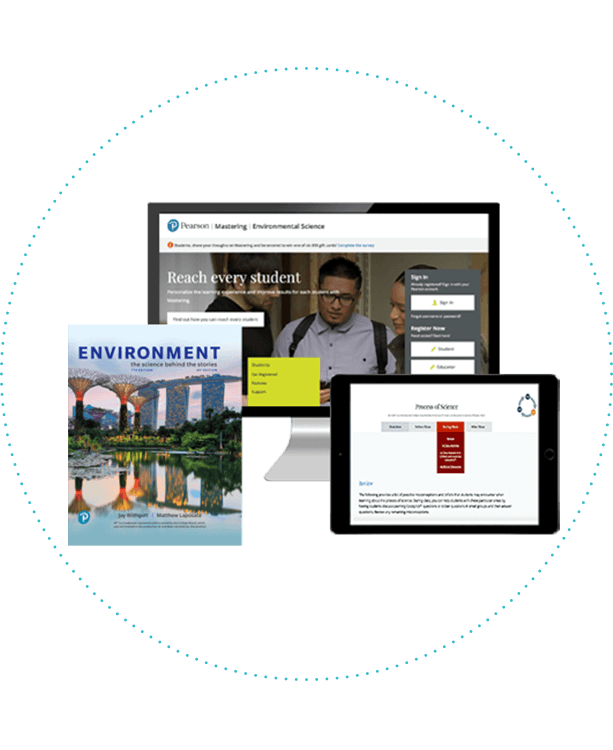 Instructor Support and Active Learning Resources
Optimized Reading Experience

The Pearson eText is a simple-to-use, mobile-optimized reading experience available with Mastering. Students can easily highlight, take notes, and review vocabulary. Seamlessly integrated videos and rich media engage students and give them access to the help they need.

Connect and Continue Section

New Connect and Continue section provides in-text active learning opportunities including local connection activities.

New sample answers to Calculating Ecological Footprint activities are available in the Instructor Guide.

Active Learning Suggestions

Revised End-of-Chapter material focuses on active learning suggestions.

Dynamic Study Modules are assignable modules posing a series of question sets about a course topic. The questions adapt to each student's performance and offer targeted feedback to help them master key concepts, build confidence, and perform better.

With Learning Catalytics, teachers pose questions to help recall ideas, apply concepts, and develop critical-thinking skills. Students can respond via computer, smartphone, tablet, or laptop. Teachers can monitor real-time responses to see where and how understanding can be improved.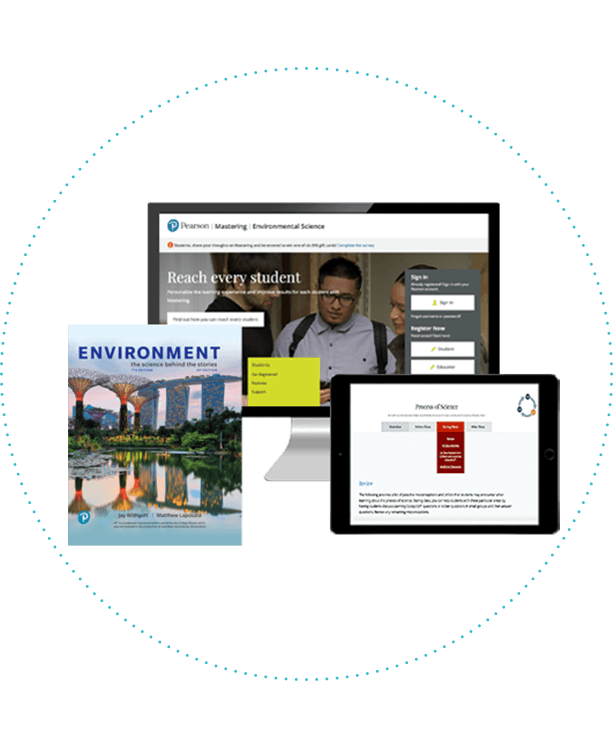 Learner Empowerment
New Success Story Coaching activities pair with the new in-text Success Story. Students have the opportunity to explore the data behind each sustainable solution.

Case Study Video Tours use Google Earth and striking images delivered in highly engaging videos to bring each chapter-opening Case Study to life. Video tours are embedded in the Pearson eText to encourage student immersion in each chapter's theme. Instructors can assign the experience through Mastering.

Video Field Trip activities offer fascinating behind-the-scenes tours of real environmental concerns and the strategies and solutions employed to address them.

GraphIt! Coaching Activities

10 GraphIt! Coaching activities help students read, interpret, and create graphs that explore real environmental issues using real data.

Graph and Data Interpretation

Interpreting Graphs and Data activities help students develop basic data analysis skills and practice applying these skills by interpreting data about environmental issues.

Process of Science Coaching Activities

Fifteen Process of Science coaching activities help students think critically about environmental research presented in the in-text Science Behind the Scenes stories.

Everyday Environmental Science Video Activities

Everyday Environmental Science video activities connect environmental science course topics with current stories in the news. The can be assigned for pre- or post-lecture lecture homework or shown in-class for student engagement with the topic.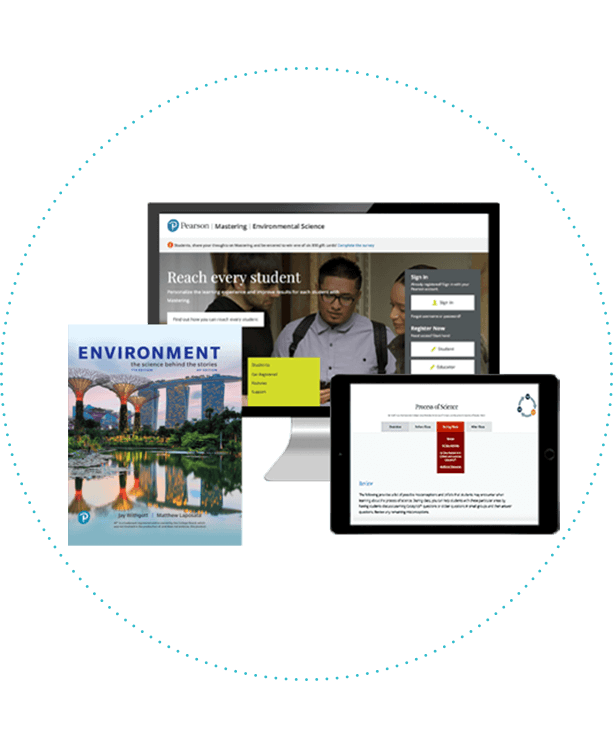 Take a deeper look into Environment: The Science Behind the Stories's features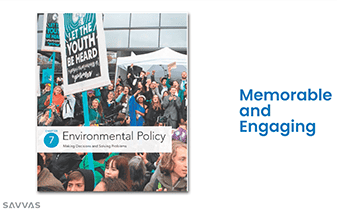 Overview
Get to know Environment: The Science Behind the Stories with Mastering® Environmental Science with Pearson eText.
Mastering® Environmental Science from Pearson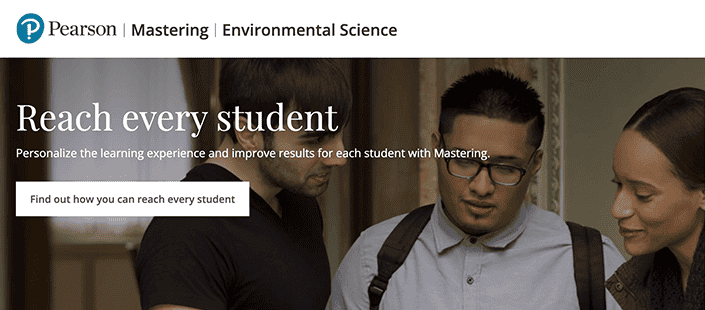 Environment: The Science Behind the Stories fully integrates with Mastering® with Pearson eText so students have full access to all the resources they need to succeed.
Test Prep for AP®
Created specifically for Environment: The Science behind the Stories, Seventh Edition, the Test Prep workbook introduces students to the types of questions they will find on the AP® exam. This print only item is available for purchase.
Request a Quote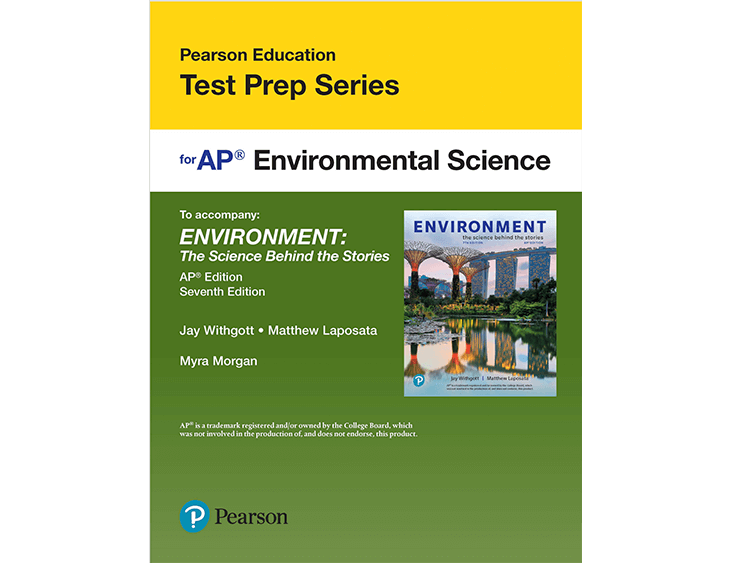 School Stories
In these inspirational stories, you'll learn about what schools and districts from across the country are doing to help students succeed and shape the future of education.
Get Inspired
More About Environment: The Science Behind the Stories, 7th Edition
Jay Withgott has authored Environment: The Science Behind the Stories as well as its brief version, Essential Environment, since their inception. In dedicating himself to these books, he works to keep abreast of a diverse and rapidly changing field and continually seeks to develop new and better ways to help today's students learn environmental science. As a researcher,

Jay has published scientific papers in ecology, evolution, animal behavior, and conservation biology in journals ranging from Evolution to Proceedings of the National Academy of Sciences. As an instructor, he has taught university lab courses in ecology and other disciplines. As a science writer, he has authored articles for numerous journals and magazines, including Science, New Scientist, BioScience, Smithsonian, and Natural History. By combining his scientific training with prior experience as a newspaper reporter and editor, he strives to make science accessible and engaging for general audiences. Jay holds degrees from Yale University, the University of Arkansas, and the University of Arizona. Jay lives with his wife, biologist Susan Masta, in Portland, Oregon.

Matthew Laposata Author Bio

Matthew Laposata is a professor of environmental science at Kennesaw State University (KSU). He holds a bachelor's degree in biology education from Indiana University of Pennsylvania, a master's degree in biology from Bowling Green State University, and a doctorate in ecology from The Pennsylvania State University.

Matt is the coordinator of KSU's two-semester general education science sequence titled Science, Society, and the Environment, which enrolls roughly 6000 students per year. He focuses exclusively on introductory environmental science courses and has enjoyed teaching and interacting with thousands of students during his nearly two decades in higher education. He is an active scholar in environmental science education and has received grants from state, federal, and private sources to develop innovative curricular materials. His scholarly work has received numerous awards, including the Georgia Board of Regents' highest award for the Scholarship of Teaching and Learning. Matt resides in suburban Atlanta with his wife, Lisa, and children, Lauren, Cameron, and Saffron.

1. Science and Sustainability

Our Island, Earth
Environmental Science
The Nature of Science
Seeking a Sustainable Future

2. Earth's Physical Systems

Matter, Chemistry, and the Environment
Energy: An Introduction
Geology: The Physical Basis for Environmental Science
Geologic and Natural Hazards

3. Evolution and Population Ecology

Evolution: The Source of Earth's Biodiversity
Ecology and the Organism
Population Ecology
Conserving Biodiversity

4. Species Interactions and Community Ecology

Species Interactions
Ecological Communities
Earth's Biomes

5. Environmental Systems and Ecosystem Ecology

Earth's Environmental Systems
Ecosystems
Biogeochemical Cycles

6. Ethics, Economics, and Sustainable Development

Environmental Ethics
Economics and the Environment
Sustainable Development

7. Environmental Policy

Environmental Policy: An Overview
U.S. Environmental Law and Policy
International Environmental Policy
Approaches to Environmental Policy

8. Human Population

Our World at Nearly 8 Billion
Demography
Population and Society

9. The Underpinnings of Agriculture

Resources and Services for Agriculture
Soil: A Foundation of Agriculture
Water for Agriculture
Nutrients for Plants
Pollination for Farming
Preserving Genetic Diversity
Conserving Soil and Land Resources

10. Making Agriculture Sustainable

The Race to Feed the World
Raising Animals for Food
Controlling Pests and Weeds
Genetically Modified Food
Organic Agriculture
Sustainable Food Production

11. Biodiversity and Its Conservation

Life's Diversity on Earth
Benefits of Biodiversity
Biodiversity Loss and Extinction
Conservation Biology: The Search for Solutions

12.Forests, Forest Management, and Protected Areas

Forest Ecosystems and Forest Resources
Forest Loss
Forest Management
Parks and Protected Areas

13. The Urban Environment

Our Urbanizing World
Sprawl
Creating Livable Cities
Urban Sustainability

14. Environmental Health and Toxicology

Environmental Health
Toxic Substances and Their Effects on Organisms
Toxic Substances and Their Effects on Ecosystems
Studying Effects of Hazards
Risk Assessment and Risk Management
Philosophical and Policy Approaches

15. Freshwater Systems and Resources

Freshwater Systems
Human Activities Affect Waterways
Solutions to Depletion of Fresh Water
Freshwater Pollution and Its Control

16. Marine and Coastal Systems and Resources

The Oceans
Marine and Coastal Ecosystems
Marine Pollution
Emptying the Oceans
Marine Conservation

17. The Atmosphere, Air Quality, and Air Pollution Control

The Atmosphere
Outdoor Air Quality
Ozone Depletion and Recovery
Addressing Acid Deposition
Indoor Air Quality

18. Global Climate Change

Our Dynamic Climate
Studying Climate Change
Impacts of Climate Change
Responding to Climate Change

19. Fossil Fuels and Energy Efficiency

Sources of Energy
Fossil Fuels: Their Formation, Extraction, and Use
Reaching Further for Fossil Fuels
Addressing Impacts of Fossil Fuel Use
Energy Efficiency and Conservation

20. Conventional Energy Alternatives

Alternatives to Fossil Fuels
Nuclear Power
Bioenergy
Hydroelectric Power

21. New Renewable Energy Sources

Shifting to Renewable Energy
Solar Energy
Wind Power
Geothermal Energy
Ocean Energy Sources
Energy Storage

22. Managing Our Waste

Approaches to Waste Management
Municipal Solid Waste
Industrial Solid Waste
Hazardous Waste

23. Minerals and Mining

Earth's Mineral Resources
Mining Methods and Their Impacts
Toward Sustainable Mineral Use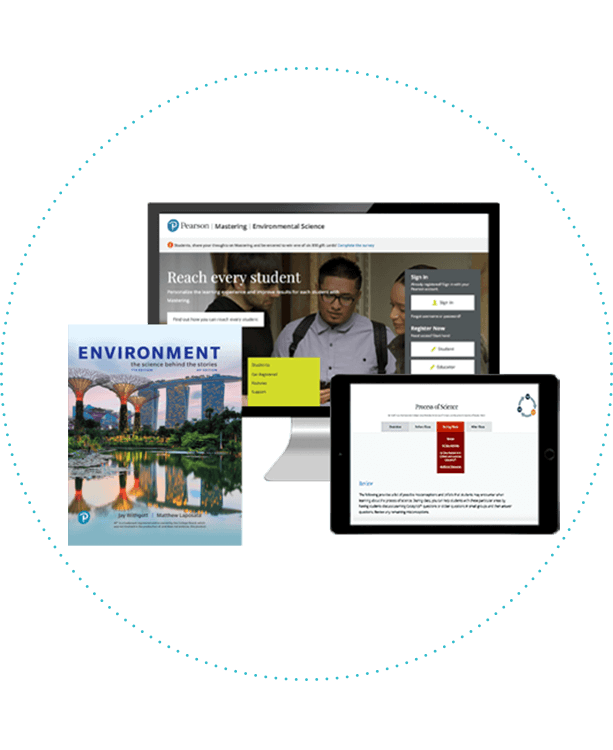 PEARSON, MYLAB, MYMATHLAB, MATHXL, MASTERING, STATCRUNCH, REVEL and the Pearson Logo are trademarks owned and/or registered by Pearson plc and/or its affiliates. All other third party marks associated with these products are the property of their respective owners. Copyright in the works referenced herein is owned by Pearson Education, Inc. Pearson Education has control over the editorial content in these instructional materials.
AP® is a registered trademark of the College Board, which was not involved in the production of, and does not endorse, these products.