The Cultural Landscape: An Introduction to Human Geography 14th, AP® Edition ©2024
This program introduces geography as a social science by emphasizing the relevance of geographic concepts to human problems and the relationship between globalization and cultural diversity.
Active, discovery-based learning.
Incorporates the latest data and applied examples of human geography.
Helps students connect global concepts and phenomena to their local geographies.
Supports with the AP Course Framework.
This program is accompanied by the Pearson Mastering® platform with eText.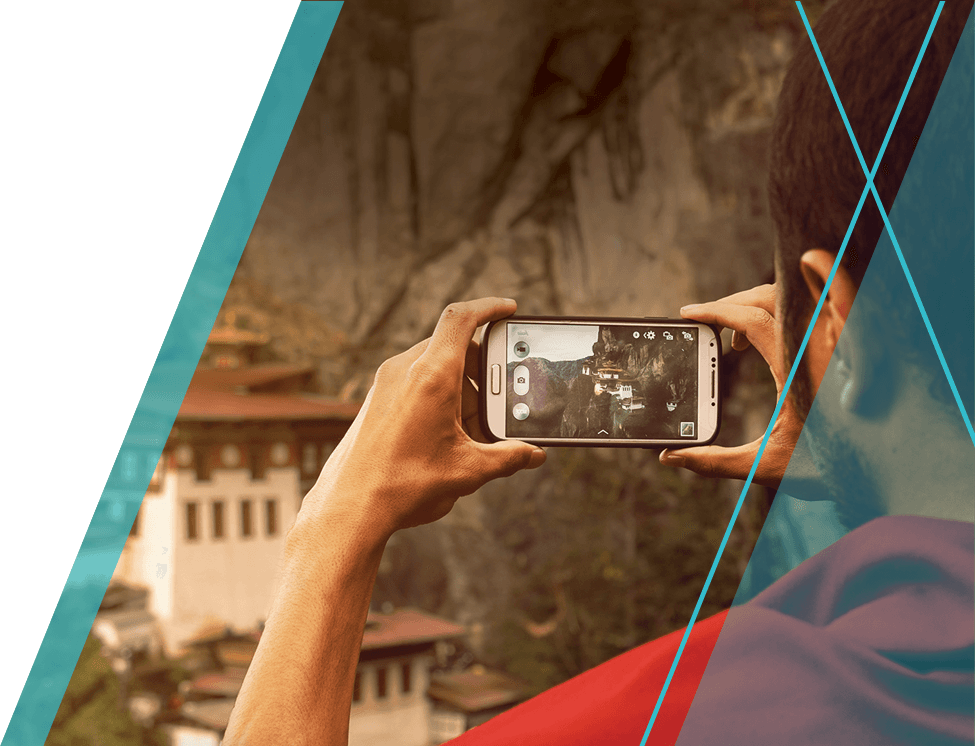 The Cultural Landscape: An Introduction to Human Geography strengthens students' connection to geography through active, discovery-based learning.
The 14th AP Edition emphasizes the relevance of geographic concepts to human challenges.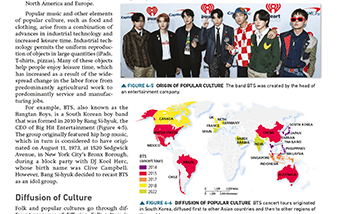 Highly relevant topics for modern human geography study
The Cultural Landscape, 14th Edition features topics relevant to the 2020s decade, threaded through the text, and supported in the eText and Mastering. This makes the lessons engaging and relevant to students' contemporary lives.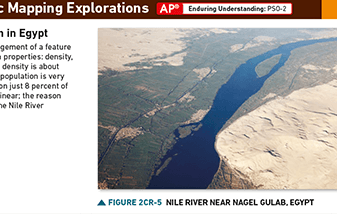 Modern maps and visuals bolster 21st century student understanding of human geography
A modern integration of precise maps, informational illustrations, and vivid photographs propel students off the page and into a real-world visual and intellectual understanding of patterns and processes in human geography today.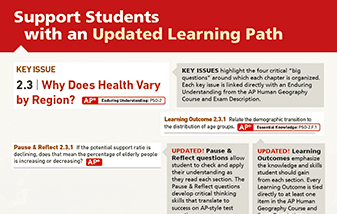 Updated AP practice resources align with current test to improve student results
The 14th edition aligns with the College Board's AP ® course framework and features a Test Prep Workbook for AP® Human Geography, created specifically for this program, with tools to ensure student success on the exam.
A Map to Success in AP Human Geography
AP practice directly tied to maps and visuals.

Updated Summary & Review Resources

Engaging AP program features

Develops Critical Thinking, Writing, & Data Analysis Skills

International Mapping Explorations
AP practice directly tied to maps and visuals.
Throughout the text AP Icons highlight connections to the College Board's Curriculum Framework.

AP® Big Ideas are included at the beginning of each chapter; these help students link the chapter concepts to the Framework's Big Ideas.

On the first page of each chapter Word Clouds visually depict the most important concepts and terms addressed in the chapter.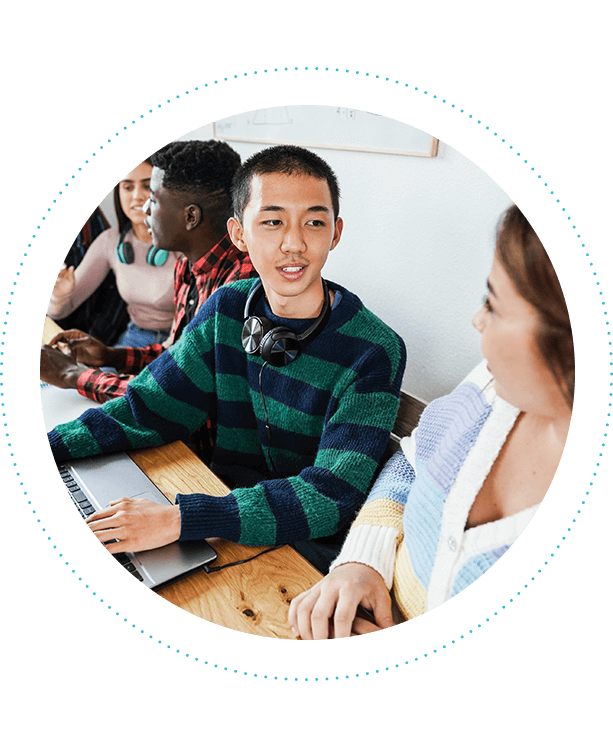 Updated Summary & Review Resources
End-of-chapter features include a brief Summary & Review of the chapter's four Key Issues

Critical Thinking Questions

A new critical-thinking question that invites students to relate chapter content to one or more Big Ideas from the AP Human Geography Curriculum Framework.

End-of-chapter questions, reading quizzes, Test Bank questions, map labeling activities, a bank of Free Response Question (FRQ) style questions for AP Human Geography, and more.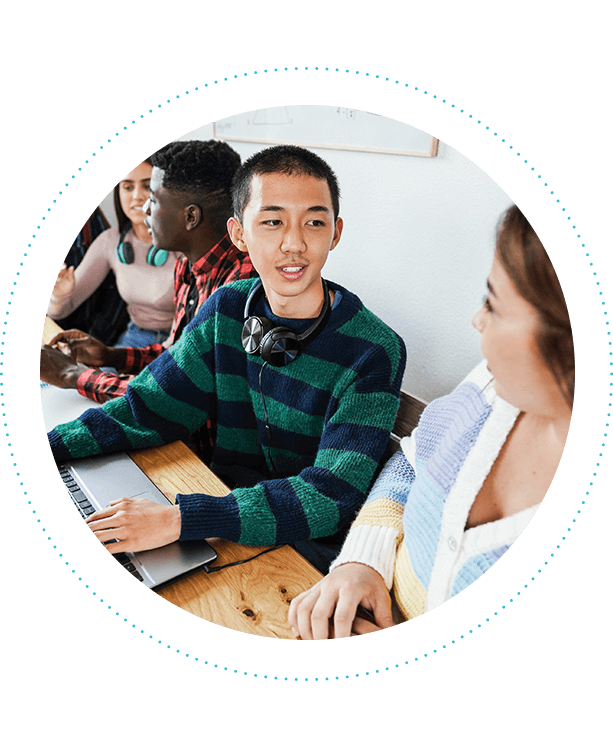 Engaging AP program features
Each Key Issue is linked directly with an Enduring Understanding from the AP Human Geography Course and Exam Description.

Immediately below the title of each Key Issue topic is a Learning Outcome that summarizes the principal purpose of that topic.

Tied to the AP® Human Geo Course

Every Learning Outcome is tied directly to at least one item in the AP Human Geography Course and Exam Description.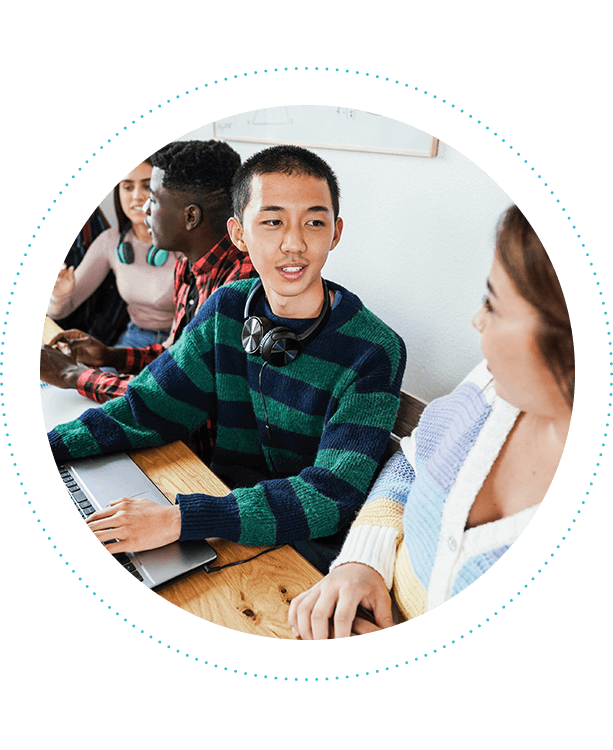 Develops Critical Thinking, Writing, & Data Analysis Skills
Thinking Geographically questions consist of several visual and thought-provoking "essay-style" questions at the end of each chapter, suggesting directions for further reflection, based on concepts and themes developed in the chapter.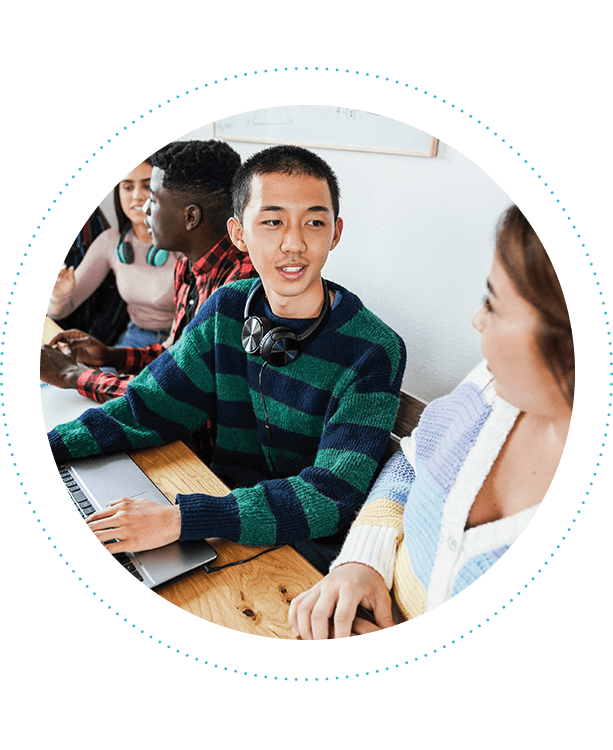 International Mapping Explorations
International Mapping Explorations

NEW! International Mapping Explorations have students investigate in more detail a concept or place discussed in the chapter and answer questions based on their observations.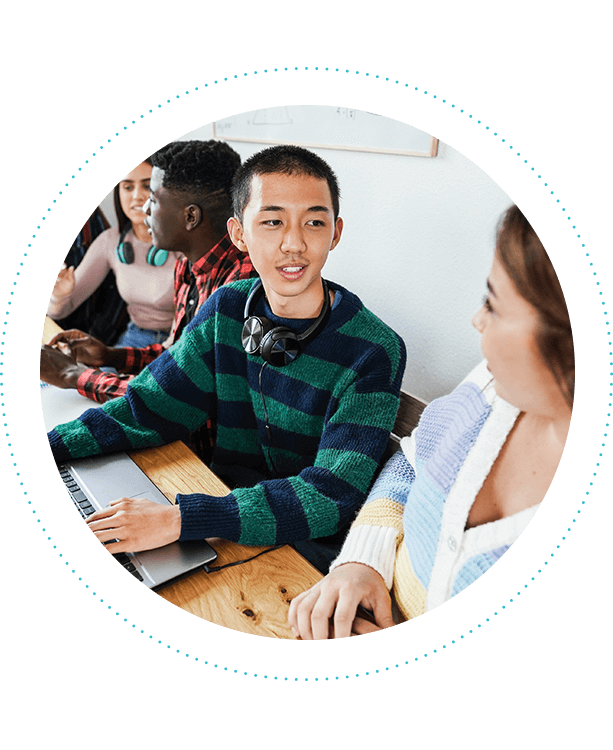 Features of Mastering Geography from Pearson for the 14th Edition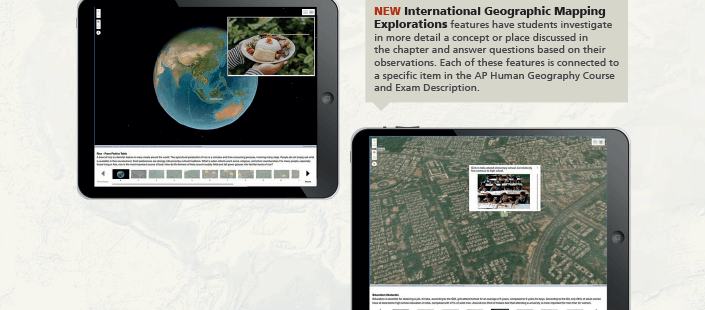 International Geographic Mapping Explorations ask students to investigate a concept discussed in the chapter and answer questions based on observations.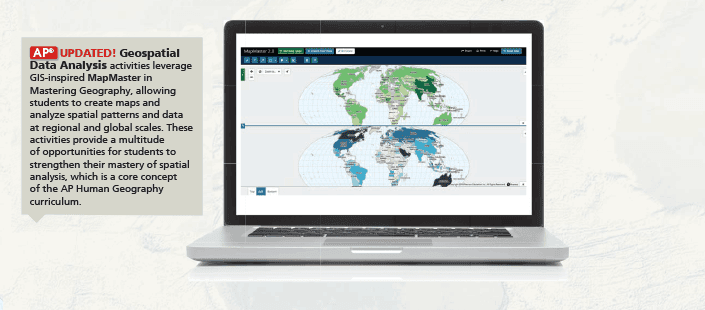 Geospatial Data Analysis interactive map activities enable students to create maps and analyze spatial patterns and data at regional and global scales.
The Cultural Landscape Resources
Student Test Prep Workbook

Instructor Resource Manual

Instructor Resource Materials
Student Test Prep Workbook
This workbook provides an overview of the AP Human Geography curriculum and examination along with resources that ensure student's peak performance on the exam. Available for separate purchase.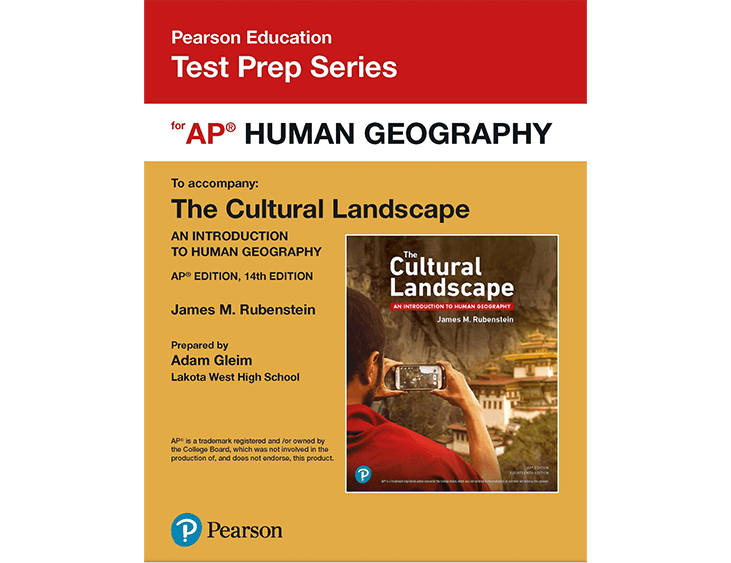 Instructor Resource Manual for AP
Updated for the 14th edition, the Instructor Resource Manual is intended as a resource for both new and experienced teachers of AP Human Geography. It includes lecture outlines, teaching tips, additional references, advice about how to integrate Mastering® Geography media and assessment, and various other ideas for the AP classroom.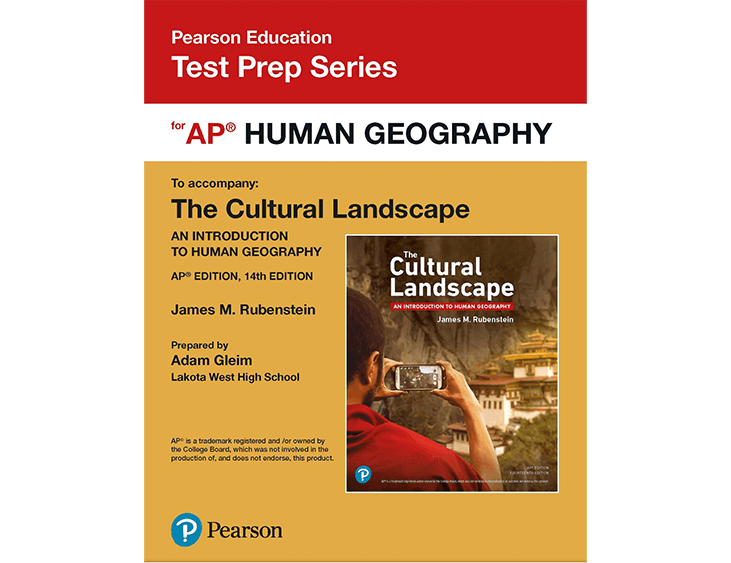 AP® Exam Style Free-Response Questions and Rubric
These questions are written in the most current AP Exam format and address multiple topics. Questions blend across units and use the task verbs prescribed by the College Board. The AP Exam Style Free Response Question and Rubric feature sample answers.
Test Bank
This Test Bank includes over 1,000 multiple choice and short answer/essay questions correlated to learning outcomes from the book, as well as to the updated U.S. National Geography Standards and Bloom's Taxonomy, helping instructors better map the assessments against both broad and specific teaching and learning objectives. Available in Mastering Geography.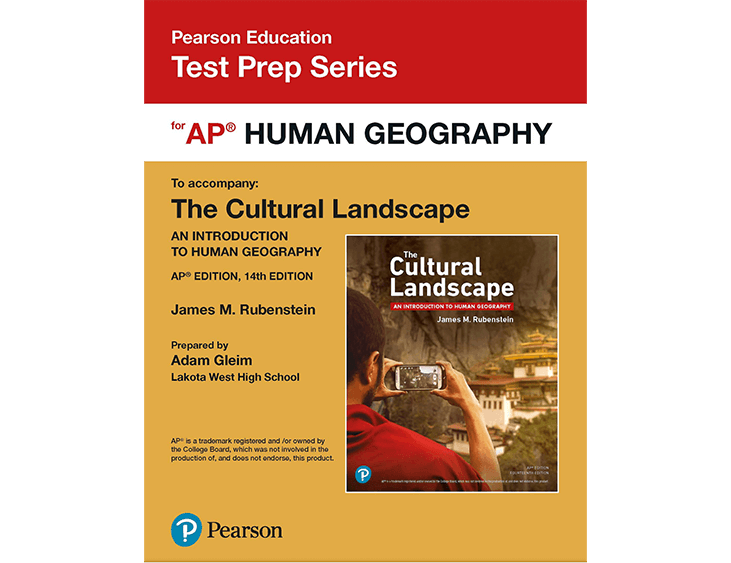 Instructor Resource Materials
These include high-quality electronic versions of photos, maps, illustrations, and tables from the book in JPEG and PowerPoint formats, as well as customizable PowerPoint lecture presentations, Classroom Response System questions in PowerPoint, and the Instructor Resource Manual and Test Bank in Word and TestGen formats.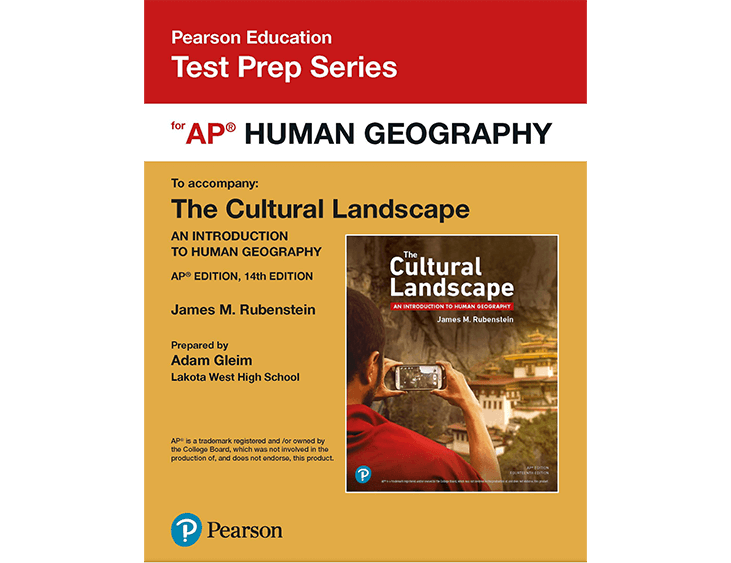 School Stories
In these inspirational stories, you'll learn about what schools and districts from across the country are doing to help students succeed and shape the future of education.
Get Inspired
More About The Cultural Landscape
Dr. James M. Rubenstein received his B.A. from the University of Chicago in 1970, M.Sc. from the London School of Economics and Political Science in 1971, and Ph.D. from Johns Hopkins University in 1975. He was a Professor of Geography at Miami University for 37 years, where he taught urban and human geography.

Dr. Rubenstein is now a full-time writer. In addition to this book, Dr. Rubenstein is the author of Contemporary Human Geography, as well as co-author of Introduction to Contemporary Geography, both published by Pearson Education. He also conducts research in the automotive industry and has published four books on the subject—The Changing U.S. Auto Industry: A Geographical Analysis (Routledge); Making and Selling Cars: Innovation and Change in the U.S. Auto Industry (The Johns Hopkins University Press); A Profile of the Automobile and Motor Vehicle Industry: Innovation, Transformation, Globalization (Business Expert Press); and Who Really Made Your Car? Restructuring and Geographic Change in the Auto Industry (W.E. Upjohn Institute, with Thomas Klier).

He also writes a weekly column about local food for The Oxford Press. Winston, a lab-husky mix with one brown eye and one blue eye, takes Dr. Rubenstein for long walks in the woods most days, when he is up to it.

This Is Geography
Population & Health
Migration
Culture & Social Media
Languages
Religions
Ethnicities
Political Geography
Food & Agriculture
Development
Industry & Energy
Services & Settlements
Urban Patterns

Afterword: Careers in Geography

Appendix: Map Scale & Projections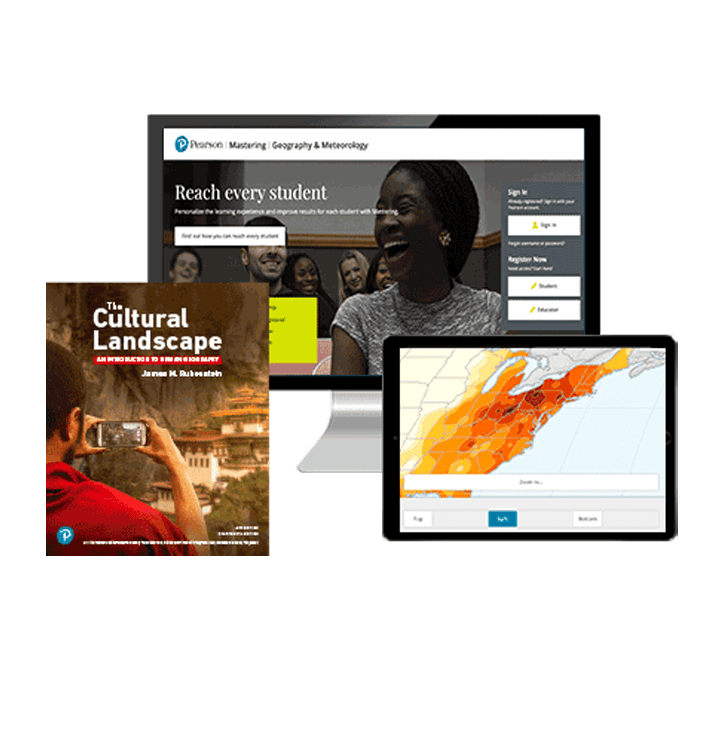 PEARSON, MYLAB, MYMATHLAB, MATHXL, MASTERING, STATCRUNCH, REVEL and the Pearson Logo are trademarks owned and/or registered by Pearson plc and/or its affiliates. All other third party marks associated with these products are the property of their respective owners. Copyright in the works referenced herein is owned by Pearson Education, Inc. Pearson Education has control over the editorial content in these instructional materials.
AP® is a registered trademark of the College Board, which was not involved in the production of, and does not endorse, these products.