Select an Option below:
More Options:
Savvas Learning Company's All-New Experience Chemistry Receives Tech & Learning Best of 2020 Award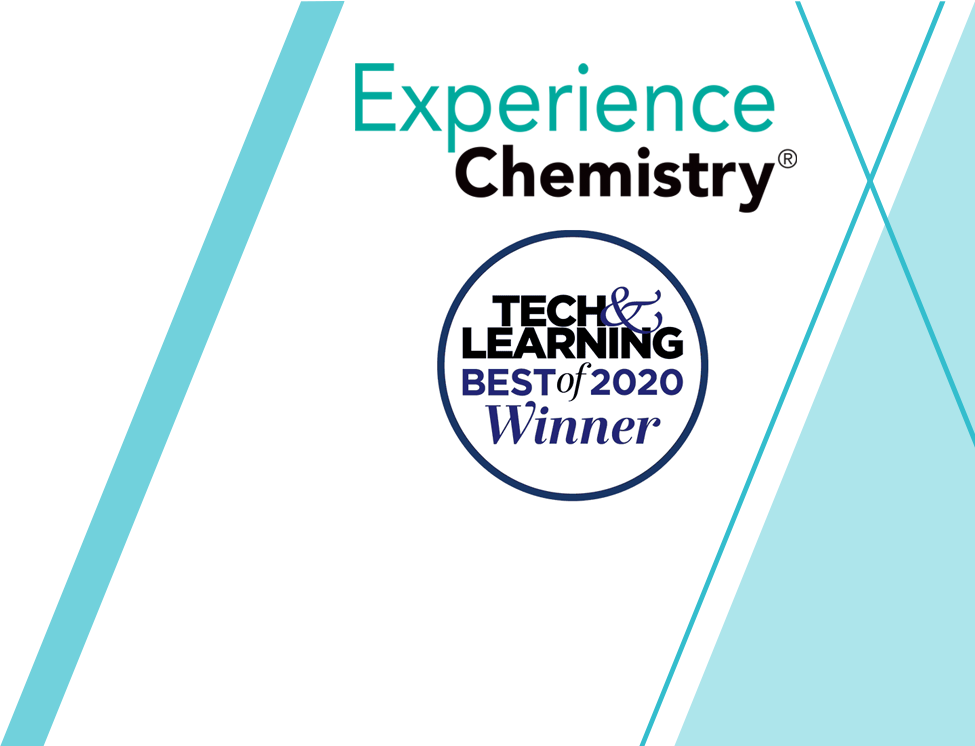 Savvas Learning Company's All-New Experience Chemistry Receives Tech & Learning Best of 2020 Award
PARAMUS, NEW JERSEY — January 25, 2021 — Savvas Learning Company, a K-12 next-generation learning solutions leader, is proud to announce that its all-new Experience Chemistry™ high school program has received a Tech & Learning Best of 2020 Award for its "incredible impact on teaching and learning experiences." With its phenomena-driven curriculum, Experience Chemistry gets students to investigate real, compelling observances in the natural world through the science of doing.
"Learning through the lens of everyday phenomena helps students to see chemistry in their own lives and in the world around them. That connection is made more relevant and personal with opportunities for active inquiry and student engagement," said Bethlam Forsa, CEO of Savvas Learning Company. "We are proud that Experience Chemistry has been honored as a game-changer in accelerating student learning with interactive technologies that provide hands-on, real-world experiences."
Tech & Learning's Best of 2020 Awards, presented at the virtual ISTE20 show, celebrate the unique, creative products, and the businesses behind them, that are transforming education in schools around the world. The panel of judges "appreciated how Experience Chemistry provides opportunities for virtual labs, collaboration and student-centered activities."
Experience Chemistry's brand-new curriculum takes a bold approach to teaching chemistry and focuses on providing an engaging student experience, in the classroom or remotely. Through an exclusive partnership with Flinn Scientific, the leading classroom lab-solution provider, the program features high-quality labs, lab videos, and performance-based assessments.
Accessible on Savvas Realize™, one of the edtech industry's most versatile learning management systems, Experience Chemistry gives teachers the flexibility to teach chemistry from anywhere, with state-of-the-art lab experiments for classroom use and virtual labs for online investigations. By providing engaging lab experiments, digital activities, and personalized learning experiences, it challenges and excites students with scientific phenomena that makes them explore, question, and discover the hows and whys of chemistry.
"One thing this challenging year has taught us is that education continues to be one of the most resilient and passionate industries around," said Christine Weiser, content director of Tech & Learning. "The winners of The Best of 2020 are examples of how innovation will continue to transform teaching and learning through this pandemic and beyond."
ABOUT SAVVAS LEARNING COMPANY
At Savvas, we believe learning should inspire. By combining new ideas, new ways of thinking, and new ways of interacting, we design next-generation learning solutions that help prepare students to become global citizens in a more interconnected, digital world. To learn more, visit Savvas Learning Company.
Savvas Learning Company's products are available for sale in Canada through its subsidiary, Rubicon.