Select an Option below:
More Options:
Finding the Positives in a Challenging School Year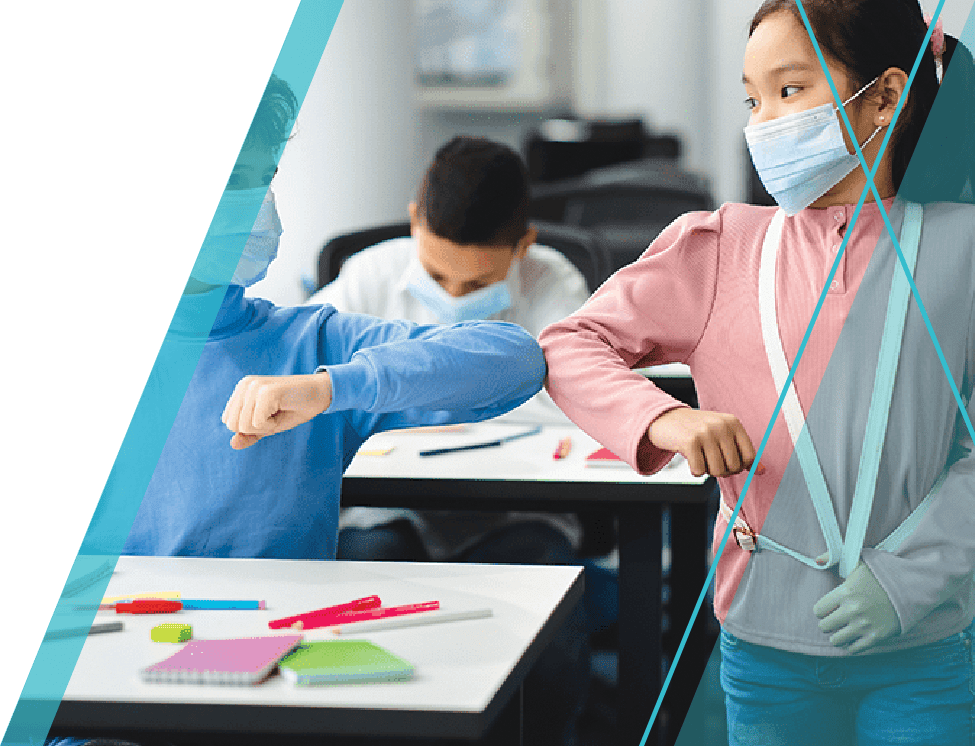 I've heard a lot of people saying that the 2020-2021 school year should be, in some ways, written off. As a teacher who has been teaching in person since September, I think there have actually been numerous positives of this school year. I'm not saying that this year was perfect, it certainly had its challenges, but I wouldn't, by any means, write off the year.
I have been teaching in-person, five days a week since the first day of school in September. I have 15 students, all spread out six feet apart, in my cohort. My school district designed a schedule that would allow students and staff to interact with the least number of people as possible so as to prevent the spread of the COVID-19 virus the best we could. My prep time is 8:05-9:10 before the students arrive at school. Once the students arrive, I am with them the entire day. We learn together, we eat lunch together, we go to recess together, and we stream our specials together. My lunch is at 2:15 after the students are dismissed. While at times this "always-on" schedule can be exhausting, I have found myself more than once being grateful for this year, and here is why.
Smaller class sizes meant students got more individual attention.

The biggest advantage of this school year is that I only have 15 students. Any other year I would have between 22 and 25 students. Ten fewer students make a huge difference! I have never known my class on a deeper level than I know them this year. I can tell you about each student's academic achievements and struggles, their favorite color, the writing project they are working on right now, and what they like to eat at lunch. Every week I am able to spend at least 5 minutes conferencing with each student during our independent reading time and writing block. This individualized attention is usually reserved for higher need students or, if we are lucky, the students that can use enrichment. Having a smaller class allows me to truly understand my students as individuals. Of course, having a small class also comes in handy with time management. Things like grading tests, doing report cards, and parent-teacher conferences don't take up as much time. This leaves me free to plan more exciting and engaging lessons for the class. Overall, a smaller class size is a win for teachers and an even bigger win for students.

My students have become technology experts.


Each student this year was provided a Chromebook. We use these at least once a day. My second-grade students have become so confident with technology since September, and we aren't even a remote class. They can present their screens, peer edit on FlipGrid, share what they have learned on Padlet, and research nonfiction books using websites. Not only are my students learning important technology skills that they will undoubtedly need for their futures, but with the use of this technology I can easily differentiate my lessons. My ENL students enjoy reading the same books as their peers because they can listen to the text while they read. These students are no longer held back because their independent reading level is below grade level. I also love supplementing lessons with engaging videos, especially for my ENL students. Technology is being used in the classroom in such creative ways these days. This has been a big positive outcome of this year.

I had the opportunity to better understand my students' social settings.

Another advantage is that with this cohort model, I have been able to observe my students in social settings that I normally would have missed out on. I go with them to recess so I can see how my students interact with their peers in an unstructured setting. It's very interesting to see your whole class all playing a game together during recess. I think that the students in this class have truly bonded. They are concerned for each other and include each other in everything. Perhaps this is an outcome of a heightened sense of empathy with the virus, or maybe it's the result of spending so much time together in an isolated class but either way, I am grateful for the opportunity to see this shift in our young population.
This year, despite all the immense challenges, has also presented some unexpected positives. We are still learning and we are still growing. This generation of students' are technology navigators, risk-takers, problem solvers, and overall kind people. Isn't that worth something?
Note: Fresh Ideas for Teaching blog contributors have been compensated for sharing personal teaching experiences on our blog. The views and opinions expressed in this blog are those of the authors and do not necessarily reflect the official policy or position of any other agency, organization, employer or company.