Select an Option below:
More Options:
Savvas Learning Company CEO Bethlam Forsa Receives 2023 Power of Women Award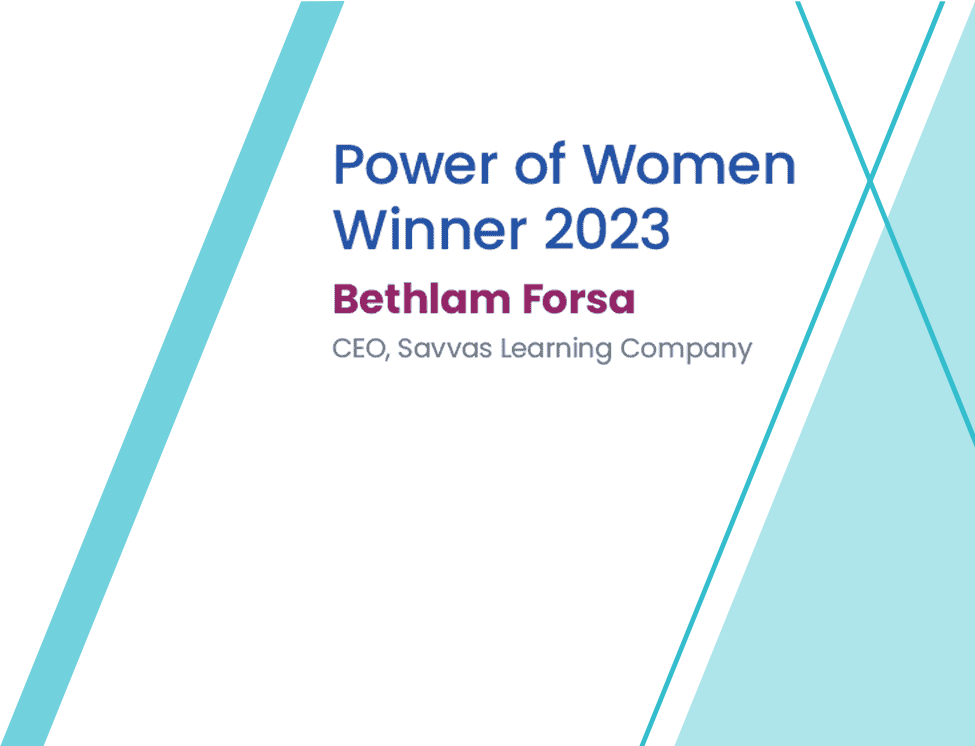 Savvas Learning Company CEO Bethlam Forsa Receives 2023 Power of Women Award
Educational visionary honored by ASU+GSV for innovation and leadership in the learning technology sector
PARAMUS, NEW JERSEY — January 23, 2023 — Savvas Learning Company, a global next-generation learning solutions provider for K-12 education, is proud to announce that its CEO, Bethlam Forsa, has received the 2023 Power of Women Award.
Given annually at the ASU+GSV Summit, the Power of Women Award honors extraordinary female leaders for leading and achieving successful outcomes for companies at scale in the learning technology sector. The recipients of the 2023 Power of Women Award are inspirational leaders committed to increasing access to education and workforce skills for millions of learners globally.
"I am truly honored to receive this prestigious award and want to extend my congratulations to the other recipients among this impressive group of female executives," Forsa said. "I also want to thank ASU+GSV for highlighting the impactful role female leaders have in helping transform the educational landscape by using new ideas and advanced technologies so that all learners can succeed."
A dynamic and visionary leader whose career in education and publishing spans over two decades, Forsa is committed to the idea that a quality education has the power to shape lives, inspire new ways of thinking, and build better communities. With an innovation mindset and a focus on technology's potential to personalize teaching and learning experiences, she is a recognized trailblazer and changemaker in the K-12 space. Under Forsa's leadership, Savvas has taken a market-leading position with its award-winning product lines, highest-quality curriculum, and best-in-class professional services, delivered to more than 40 million K-12 students and teachers worldwide.
Forsa's award follows the recent announcement that Savvas Learning Company has been named to the 2023 GSV 150, ASU+GSV's list of the world's most transformative private companies in education. Savvas was chosen from more than 4,000 private companies revolutionizing the world of education technology, from Pre-K-12 to workforce learning. These companies were evaluated on five criteria — revenue scale, revenue growth, active learner reach, international reach, and margin profile — to determine the global GSV 150 list. In addition to these two honors, Forsa has also been chosen to speak at the 2023 ASU+GSV Summit, which will be held in San Diego in April.
To see the full list of 2023 Power of Women recipients, visit ASU+GSV Summit's Honorees page.
ABOUT ASU+GSV SUMMIT
The ASU+GSV Summit is the premier global event focused on technology innovation in education and skills. We believe that ALL people deserve equal access to the future. Started in 2010 with a collaboration between Arizona State University (ASU) and Global Silicon Valley (GSV), the annual Summit connects leading minds focused on transforming society and business around learning and work. Educators, investors, industry leaders, and entrepreneurs from around the world come together to innovate the future of education for all. Hosted in San Diego, over 5,300 people attended in April 2022.
ABOUT SAVVAS LEARNING COMPANY
At Savvas, we believe learning should inspire. By combining new ideas, new ways of thinking, and new ways of interacting, we design next-generation learning solutions that help prepare students to become global citizens in a more interconnected, digital world. To learn more, visit Savvas Learning Company.
Savvas Learning Company's products are available for sale in Canada through its subsidiary, Rubicon.