Select an Option below:
More Options:
Savvas Realize Earns 2023 EdTech Breakthrough Award for "LMS Innovation of the Year"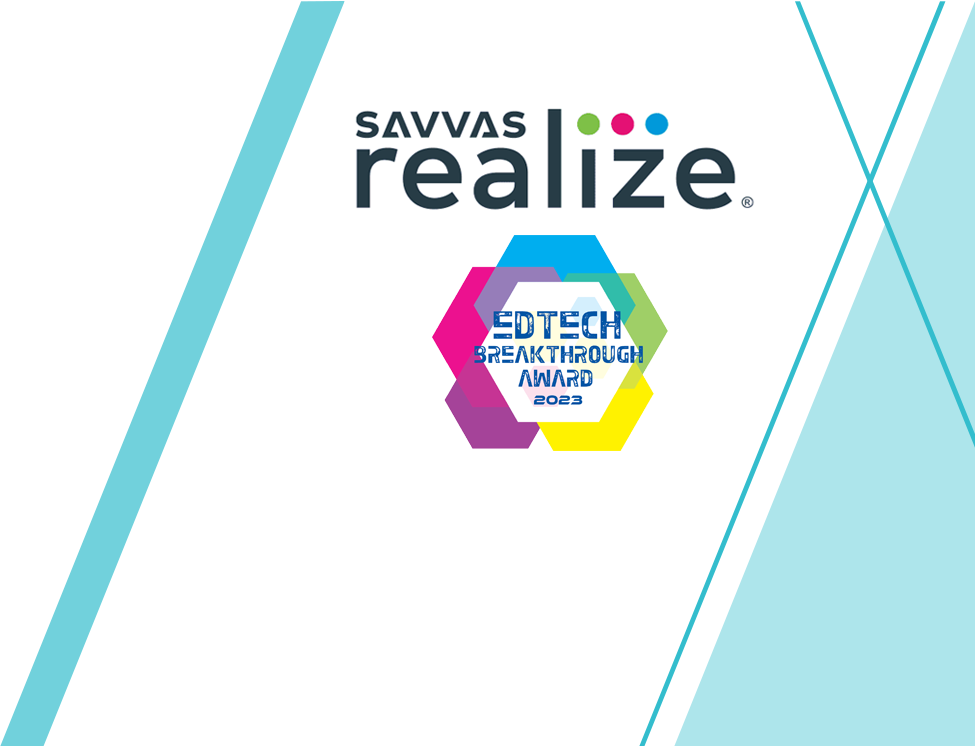 Savvas Realize Earns 2023 EdTech Breakthrough Award for "LMS Innovation of the Year"
PARAMUS, NEW JERSEY — June 26, 2023 — Savvas Learning Company, a K-12 next-generation learning solutions leader, is proud to announce that its Savvas Realize learning management system (LMS) has won the 2023 EdTech Breakthrough Award for "LMS Innovation of the Year." Savvas Realize, a dynamic and flexible LMS for teaching and learning, was recognized as a "truly breakthrough educational technology solution built for today's modern education challenges."
Winners of this year's EdTech Breakthrough Awards, which showcase technologies and companies that drive innovation and exemplify the best in edtech solutions, were selected from more than 2,400 nominations based on innovation, design, user experience, and overall technological advancement. This is the second year in a row that the Savvas Realize LMS has received an EdTech Breakthrough Award.
"We would like to thank the EdTech Breakthrough Awards for honoring Savvas Realize as an innovative learning management system," said Bethlam Forsa, CEO of Savvas Learning Company. "Built to meet all of a district's K-12 curriculum and administrative needs, our robust platform supports educators with the most advanced tools, engaging content, and instructional resources to help move learning forward for all students."
Savvas is showcasing its game-changing Savvas Realize LMS to thousands of educators at the ISTELive 23 show in Philadelphia starting today. Attendees can visit Savvas at Booth #2220 to learn more about the Savvas Realize platform and other new innovative products.
Delivered on the award-winning Savvas Realize learning management system, Savvas Essentials: Foundational Reading can be easily implemented in a blended or fully digital format. The program offers research-based, easy-to-use content and teaching tools that support and extend core literacy instruction, giving educators what they need to confidently implement foundational skills instruction and help students become proficient readers.
A trendsetter among publisher platforms, Savvas Realize is the digital home to Savvas Learning Company's high-quality, rigorous, and research-grounded K-12 programs — all purposefully built for blended learning environments. Teachers can access everything they need with one login, from standards-aligned content and customizable assignments to rich student data and powerful class planning tools. Featuring cutting-edge adaptive technology, it provides data-driven insights to help teachers differentiate instruction and personalized, real-world learning experiences to increase student engagement — all on one easy-to-use platform that enables students to learn anytime, anywhere.
Savvas Realize has been recently updated to be better than ever, with powerful enhancements that deliver even greater simplicity, shareability, and seamless interoperability with more than two dozen major edtech tools that school districts use most.
Savvas was previously named "LMS Solution Provider of the Year'' by the 2022 EdTech Breakthrough Awards program. The award recognized Savvas and its popular Realize LMS as an innovator and leader "driving the global digital transformation of the education industry."
ABOUT EDTECH BREAKTHROUGH
Part of Tech Breakthrough, a leading market intelligence and recognition platform for global technology innovation and leadership, the EdTech Breakthrough Awards program is devoted to honoring excellence in educational technology products, companies and people. For more information, visit EdTech Breakthrough.
ABOUT SAVVAS LEARNING COMPANY
At Savvas, we believe learning should inspire. By combining new ideas, new ways of thinking, and new ways of interacting, we design next-generation learning solutions that help prepare students to become global citizens in a more interconnected, digital world. To learn more, visit Savvas Learning Company.
Savvas Learning Company's products are available for sale in Canada through its subsidiary, Rubicon.